24.01.2019 | Clinical trial | Ausgabe 1/2019 Open Access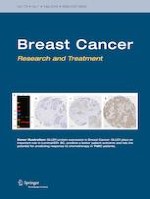 Dissecting the predictive value of MAPK/AKT/estrogen-receptor phosphorylation axis in primary breast cancer to treatment response for tamoxifen over exemestane: a Translational Report of the Intergroup Exemestane Study (IES)—PathIES
Zeitschrift:
Autoren:

Zsolt Szijgyarto, Koen D. Flach, Mark Opdam, Carlo Palmieri, Sabine C. Linn, Jelle Wesseling, Simak Ali, Judith M. Bliss, Maggie Chon U. Cheang, Wilbert Zwart, R. Charles Coombes
Wichtige Hinweise
Electronic supplementary material
Zsolt Szijgyarto and Koen D. Flach have contributed equally to this work.
Background
Globally, around 1.7 million new breast cancer cases are diagnosed each year, with over 550,000 patients who succumb to the disease [
1
]. The majority of cases (70–80%) are diagnosed with estrogen-receptor alpha (ERα)-positive disease and these patients routinely receive endocrine therapeutics as adjuvant treatment following surgery. The most commonly prescribed endocrine therapies in the adjuvant treatment of breast cancer are tamoxifen, or in postmenopausal women aromatase inhibitors (AIs) or sequential treatment of the two. The Intergroup Exemestane Study (IES) reported superiority of tamoxifen for 2–3 years followed by AIs, as compared to tamoxifen alone [
2
]. These findings were confirmed in a recent meta-analysis, which has shown that aromatase inhibitors, given at some point during the treatment (either at the start or after 2–3 years prior tamoxifen exposure) outperforms tamoxifen monotherapy [
3
].
Currently, it remains elusive whether suitable biomarkers can be identified that would facilitate optimal endocrine treatment selection in the adjuvant treatment of breast cancer, identifying individual patients who would derive selective benefit from tamoxifen, AIs or sequential treatment. Our previous analyses showed that high expression of ERß is indicative of no benefit in switching [
4
]. In contrast, high levels of cell proliferation marker Ki67 indicated selective benefit of AIs over tamoxifen alone [
5
].
Phosphorylation of ERα at serine residues 118 and 167 by MAPK and AKT, respectively, increases its activity (Online Resource 1) and phosphorylation at these sites has been associated with patient response to tamoxifen [
6
,
7
]. In contrast, Beelen et al. showed an indication of tamoxifen resistance in postmenopausal breast cancer patients with activated MAPK [
8
]. No studies to date assessed potential associations of phosphorylation of ERα, MAPK or AKT in patients who received both tamoxifen and aromatase inhibitor treatment, and how this compares to tamoxifen alone. To this end, these phospho-modifications as potential biomarkers for selective endocrine therapy benefit were tested, as determined in the IES study. Additionally, immunohistochemistry (IHC) for active MAPK (phosphorylated at threonine residues 202 and 204) as well as AKT (phosphorylated at threonine 308 and serine 473) was undertaken, since these kinases are known to phosphorylate ERα. Specifically, MAPK phosphorylates S118ERα [
9
,
10
], while AKT stimulates the phosphorylation of S167ERα [
11
]. Although reports using phospho-specific antibodies have indicated that these post-translational modifications can have an impact on patient's outcome after adjuvant endocrine treatment [
6
,
7
], none of these factors has been tested for biomarker potential in the context of a randomised clinical trial, directly comparing outcome after sequential tamoxifen/AI or tamoxifen alone.
Our hypothesis was that activated MAPK and/or AKT pathways—and their downstream impact on ERα phosphorylation at S118 and S167—might be predictive of differential treatment benefit of patients who were treated with tamoxifen alone or who received tamoxifen/exemestane switched therapy.
Our aims in this study were therefore three-fold: firstly, to assess the prognostic significance of the ERα phosphorylation markers in the entire study cohort regardless of treatment received. Secondly, to determine the correlations of the ERα phosphorylation with the respective kinases. Lastly, we aimed to determine whether these markers would indicate selective treatment benefit for patients receiving either tamoxifen alone or for those patients who switched to an AI after 2–3 years of tamoxifen.
Methods
Patients, data handling and sample collection
The study design, detailed eligibility criteria and treatment schedules have been previously described [
2
]. IES was a multicentre, international, randomised, double-blind phase III study, comparing exemestane 25 mg/day to tamoxifen 20 mg/day (30 mg in Denmark) prescribed for 2–3 years in postmenopausal women with ER+/unknown primary breast cancer who remained disease free after receiving adjuvant tamoxifen therapy for 2 to 3 years [
4
]. The IES study recruited in total 4724 postmenopausal women from 37 countries (366 centres) between 1998 and 2003 [
4
]. Formalin-fixed paraffin-embedded (FFPE) tumour samples were retrospectively collected from a subset of centres (PathIES centres
N
 = 89) in accordance with institutional guidelines, ethics requirements and national laws. Of 1506 IES patients managed by PathIES centres, pathological samples from the primary surgery (at least 2 years before randomisation) were collected retrospectively from 1282 women recruited in PathIES centres (85.1%) [
4
].
Immunohistochemistry staining
Tissue microarrays (TMAs) were constructed using formalin-fixed paraffin-embedded (FFPE) tumour blocks with a total of two cores per tumour. For details on antibodies, staining and scoring, see Online Resource methods section.
Statistical analyses
Spearman's correlation coefficients (
r
S
) were obtained to investigate the associations between the continuous variables of phospho-markers (pT202/T204MAPK, pS118ERα and pS167ERα) and ERα, PR and Ki67. Trend test was used to assess association for ordinal variables (HER2 status, pT308AKT, pT473AKT and other dichotomised phospho-markers). Chi-squared (
χ
2
) test was applied to investigate the association between the baseline characteristics of participants who did and did not provide tumour samples within PathIES participating centres. Disease-free survival (DFS) was defined as time from randomisation to recurrence (local, distant ipsilateral or contralateral) or death without disease relapse (intercurrent death) or censoring to the last date the patient was known to be alive and event free. Overall survival (OS) was defined as time from randomisation to date of death or censoring to the last date the patient was known to be alive.
The distributions of DFS and OS according to the subgroups of the phospho-markers were estimated using Kaplan–Meier plots censored at 10 years. Univariate and multivariable Cox proportional hazard (PH) survival models were applied to estimate hazard ratios (HR) for DFS and OS. All univariate and multivariable models met the PH assumption investigated with Schoenfeld residuals and PH tests.
For each of the phospho-markers (pT308AKT, pT473AKT, pT202/T204MAPK, pS118ERα and pS167ERα), a CoxPH regression model was fitted in the whole study, regardless of treatment received to assess the prognostic effect on DFS and OS via estimation of hazard ratios and 95% confidence intervals (CI). CoxPH models were fitted with and without adjusting for pre-specified prognostic factors of the centrally assessed estrogen-receptor status (H score), progesterone-receptor status (
H
score), Ki67 (ln(ki67 + 0.1)), HER2 status, treatment (tamoxifen and exemestane), nodal status, age group, tumour grade and size (ln(size)). Missing values of the clinicopathological variables were assumed as missing at completely random and therefore not imputed. In the multivariable survival modelling, interaction tests were used to investigate whether there is a differential treatment effect within phospho-marker-defined subgroups.
P
-values for all statistical tests were two sided and Benjamini–Hochberg adjusted for multiple testing with false discovery rate of 10%. If the Benjamini–Hochberg adjusted
P
-value (
p
BH
) was less than 0.05, the test was considered statistically significant.
Results
Discussion
In the context of PathIES study, the phospho-markers of our interest did not appear to be prognostic for DFS in the entire cohort regardless of treatment received or predictive for this outcome among patients with switched therapy (to exemestane from tamoxifen), over those treated with tamoxifen alone when adjusting for potential confounders.
Conclusion
This study of 1036 primary tumours confirms the association between activated AKT, MAPK and ERα phosphorylation status in postmenopausal breast cancer patient, but does not corroborate their prognostic power for DFS or OS in the entire PathIES study, nor their predictive values for these outcomes for patients managed by switched therapy over tamoxifen alone.
Acknowledgements
We thank the women who took part in this study, the pathologists, oncologists, nurses and support staff at local sites, and the data managers, trial coordinators and study managers from the Central and Eastern European Oncology Group (Poland: J. Jassem, A. Brociek, (A) Pliszka), the Danish Breast Cancer Group (J. Andersen, (B) Bruun Rasmussen), the European Organisation for the Treatment and Research of Cancer (Netherlands: (C) van de Velde, E. Meershoek, Belgium: R. Paridaens, A. Delorge), the Gruppo Oncologico Nord Ovest, the Gruppo Oncologico Italiano di Ricerca Clinica, the International Breast Cancer Study Group (Switzerland: A. Coates, R. Camler), the International Collaborative Cancer Group (United Kingdom:, K. Mousa, S. Reed, Belgium: (D) Verhoeven, S. Herman), Italian Trials in Medical Oncology (M. Visini), the North West England Group, the Norwegian Breast Cancer Group (P. Lonning), the Yorkshire Breast Group, the Wales Cancer Trials Network, the ICR-CTSU (Lucy Kilburn and Eleftheria Kalaitzaki). We also thank the Breast International Group for their support and the members of the IES steering committee and the PathIES Sub-Committee. The authors would also like to acknowledge the NKI Core Facility Molecular Pathology & Biobanking (CFMPB) for lab support.
Compliance with ethical standards
Conflict of interest
SCL reported consultant role paid to institution for Bayer, AstraZeneca, IBM, Novartis and Pfizer. SCL also declared a pro bono advisory role for Cergentis and Philips Health BV. RCC reports speaker engagement fees from Pfizer. All the other authors have declared no conflicts of interest.
Ethics approval
Formalin-fixed paraffin-embedded (FFPE) tumour samples with informed consent were retrospectively collected in accordance with institutional guidelines, ethics requirements and national laws. Laws and regulations at the time of tissue collection on consent requirements, collection of archived FFPE samples from patients that were deceased and international sample transfers limited the number of countries that could participate in PathIES. Leeds (East) Research Ethics Committee provided the ethical approval of this study (Ethics reference: 07/H1306/82). The reference number of the tissue bank for PathIES is Onc_CC_12_043.
Open Access
This article is distributed under the terms of the Creative Commons Attribution 4.0 International License (
http://​creativecommons.​org/​licenses/​by/​4.​0/​
), which permits unrestricted use, distribution, and reproduction in any medium, provided you give appropriate credit to the original author(s) and the source, provide a link to the Creative Commons license, and indicate if changes were made.