01.12.2016 | Case report | Ausgabe 1/2016 Open Access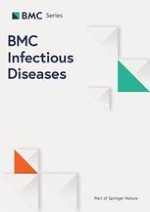 Disseminated tuberculosis after pregnancy progressed to paradoxical response to the treatment: report of two cases
Zeitschrift:
Autoren:

Tsutomu Shinohara, Kozo Kagawa, Yoshio Okano, Toru Sawada, Tooru Kobayashi, Masaya Takikawa, Yoshihito Iwahara, Fumitaka Ogushi
Abstract
Background
Early postpartum women are more likely to develop tuberculosis than nonpregnant women mainly due to immune reconstitution after delivery. Paradoxical response (PR) during antituberculosis treatment also arises via recovery from immunosuppression. However, no study focused on PR during antituberculosis treatment in a postpartum patient has been reported.
Case presentation
We present two sequential cases (Patient 1: 26-year-old; Patient 2: 29-year-old) of postpartum tuberculosis with pulmonary and extrapulmonary lesions (Patient 1: peritonitis; Patient 2: psoas abscess secondary to spondylitis). Both cases progressed to PR (worsening of pre-existing lung infiltrations (Patients 1, 2) and new contralateral effusion (Patient 2)) in a relatively short time after initiation of treatment (Patient 1: 1 week; Patient 2: 3 weeks), suggesting that immune modulations during pregnancy and delivery may contribute to the pathogenesis of both disseminated tuberculosis and its PR. The pulmonary lesions and effusion of both cases gradually improved without change of chemotherapy regimen.
Conclusion
Physicians should recognize PR in tuberculosis patients with postpartum and then evaluate treatment efficacy.