01.11.2010 | Symposium: Highlights of the ISOLS/MSTS 2009 Meeting | Ausgabe 11/2010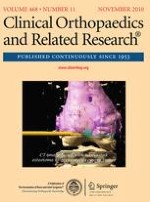 Distal Femoral Osteoarticular Allografts: Long-term Survival, But Frequent Complications
Zeitschrift:
Autoren:

MD Patrick C. Toy, MD Jeremy R. White, MD Mark T. Scarborough, MD William F. Enneking, MD C. Parker Gibbs
Wichtige Hinweise
Each author certifies that he or she has no commercial associations (eg, consultancies, stock ownership, equity interest, patent/licensing arrangements, etc) that might pose a conflict of interest in connection with the submitted article.
Each author certifies that his or her institution approved the protocol for this study and that all investigations were conducted in conformity with ethical principles of research.
This work was performed at the University of Florida Orthopaedic and Sports Medicine Institute, Gainesville, FL.
Abstract
Background
Complications are frequent with osteoarticular allografts, and their long-term survivorship in the distal femur is unclear. Thus, the benefits of osteoarticular allografting remain controversial.
Questions/purposes
We therefore determined the frequency of complications in osteoarticular allografts of the distal femur relative to their potential long-term survival.
Methods
We retrospectively reviewed 26 patients who had osteoarticular allograft reconstruction of the distal femur after resection of a malignant or aggressive benign tumor of bone. The minimum followup was 15 months (average, 156 months; range, 15–283 months) for all patients and 98 months (average, 191 months; range, 98–283 months) for the surviving patients.
Results
At last followup, 16 of the 26 original allografts were still in place. The overall 5-year and 10-year allograft survival rates were 69% and 63%, respectively. The 5-year and 10-year survival rates of the joint surface were 79% and 65%, respectively. Eleven patients retained their original osteoarticular allograft without a resurfacing procedure, and nine had been converted to allograft-prosthetic composites. Five patients were converted to megaprostheses and one had an amputation for local recurrence. At last followup, 25 of 26 patients retained a functional limb.
Conclusions
Osteoarticular allograft reconstructions of the distal femur can provide long term survival and restore function but the risk of complications and their physical and monetary costs for patients are not trivial. Lacking the benefit of improved soft tissue attachments inherent in other anatomic sites, we believe this option is most appropriate for restoring bone stock in young patients with expectations of long-term survival.
Level of Evidence
Level IV, therapeutic study. See the Guidelines for Authors for a complete description of levels of evidence.