14.11.2017 | How I Do it - Vascular | Ausgabe 4/2018 Open Access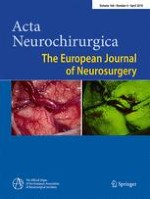 Distal transsylvian keyhole approach for unruptured anterior circulation small aneurysms
Zeitschrift:
Autoren:

Ririko Takeda, Hiroki Kurita
Wichtige Hinweise
Electronic supplementary material
Key points
• Preemptive analgesia
• Minimal hair-shaving area
• 7-cm linear scalp incision
• No cut and minimal dissection of the temporal muscle
• Preservation of the facial nerve
• Two-burr-hole small craniotomy
• Same microscopic view as the conventional pterional approach
• Same microsurgical procedures as with the conventional pterional approach
• Wide opening of the sylvian fissure
• Making the aneurysm movable enough
Abstract
Background
To reduce complications associated with conventional pterional craniotomy, a transsylvian keyhole approach for unruptured small anterior circulation aneurysms is proposed.
Methods
A 7-cm linear scalp incision is made along the hairline, beginning at the zygoma, followed by minimal temporal muscle dissection. Two burr holes are drilled out at McCarty's point and the temporal bone, and a 3-cm equilateral triangle bone flap is made, whose apex is located above the sylvian point. After the sphenoid ridge is drilled off, aneurysms are exposed and clipped with conventional microsurgical instruments.
Conclusions
This approach permits access to aneurysms via the transsylvian corridor with a smaller area of potential injury of superficial structures.