01.12.2014 | Original Article | Ausgabe 3/2014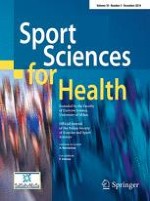 Diurnal variation in long- and short-duration exercise performance and mood states in boys
Zeitschrift:
Autoren:

Hamdi Chtourou, Asma Aloui, Omar Hammouda, Nizar Souissi, Anis Chaouachi
Abstract
The aim of the present study was to investigate the effect of time-of-day on long- and short-duration exercise performance and mood states. Twelve prepubertal boys (age 10.7 ± 0.4 years; height 1.47 ± 0.6 m; body-mass 44.8 ± 3.1 kg) performed three test sessions at 08:00, 14:00 and 18:00 h. During each session, they performed the squat jump (SJ), the countermovement jump (CMJ) and the Yo–Yo test. Oral temperature was recorded at the beginning of each test session. Moreover, boys completed the profile of mood states questionnaire before performing the physical tests. The results showed that SJ (
p
< 0.05), CMJ (
p
< 0.01) and oral temperature (
p
< 0.001) were higher at 14:00 and 18:00 h compared to 08:00 h. Maximal aerobic velocity during the Yo–Yo test was higher only at 18:00 h than 08:00 h (
p
< 0.05). However, mood states were not significantly different between 08:00, 14:00 and 18:00 h. Likewise, we did not observe significant correlations between mood states and physical performances. In conclusion, in boys, both long- and short-duration exercises, performances were better in the afternoon than the morning.