01.12.2015 | Research article | Ausgabe 1/2015 Open Access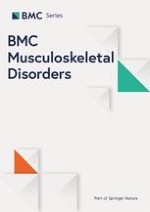 Do COX-2 inhibitors provide additional pain relief and anti-inflammatory effects in patients with rheumatoid arthritis who are on biological disease-modifying anti-rheumatic drugs and/or corticosteroids? Post-hoc analyses from a randomized clinical trial with etoricoxib
Zeitschrift:
Autoren:

Tore K Kvien, Maria Greenwald, Paul M Peloso, Hongwei Wang, Anish Mehta, Arnold Gammaitoni
Wichtige Hinweise
Competing interests
Merck & Co., Inc. provided funding for this research and conducted the analyses. PMP, HW, AM, and AG are current or former employees of Merck & Co., Inc. who may potentially own stock and/or hold stock options in the Company. MG's institution (Desert Medical Advances) received a grant from Merck & Co., Inc. TKK has received fees for speaking and/or consulting from AbbVie, BMS, Celgene, Celltrion, Eli Lilly, Hospira, Merck-Serono, MSD, Orion Pharma, Pfizer, Roche, Sandoz and UCB and received research funding to the Diakonhjemmet Hospital from AbbVie, BMS, MSD, Pfizer, Roche and UCB.
Authors' contributions
TKK, MG, PMP, HW, AM, and AG are responsible for the work described in this paper. All authors were involved in at least one of the following: conception, design, acquisition, analysis, statistical analysis, interpretation of data as well as drafting the manuscript and/or revising the manuscript for important intellectual content. All authors provided final approval of the version to be published.
Abstract
Background
Our objective was to evaluate the effect of background biological disease-modifying anti-rheumatic drugs (bDMARDs) and/or corticosteroids (CS) on response to nonsteroidal anti-inflammatory drugs (NSAIDs) in rheumatoid arthritis (RA) patients.
Methods
The following efficacy endpoints were evaluated using time-weighted change from baseline in a 12-week, randomized controlled clinical trial with etoricoxib: Patient Global Assessment of Pain, Swollen Joint Count, Tender Joint Count, Health Assessment Questionnaire. The following three treatment groups were evaluated: placebo, pooled etoricoxib 10/30/60 mg, and etoricoxib 90 mg. Screening values, values post flare, as well as changes after treatment were analyzed.
Results
Of the 1014 patients screened, 761 were randomized; 50% were on no background bDMARDs and/or CS therapy, 23% used bDMARDs, 34% used CS, and 8% used both bDMARDs and CS. It was demonstrated that RA patients on bDMARDs or CS had similar pain levels at screening as patients without this co-medication. They experienced flare upon NSAID withdrawal and demonstrated dose-dependent pain improvement with etoricoxib.
Conclusion
These results support that RA patients receiving bDMARDs or CS may still require the use of concomitant analgesics to treat pain. Clinicians should continue to monitor and treat pain even after initiating a bDMARD and/or CS.