01.01.2013 | Symposium: Papers Presented at the Annual Meetings of the Knee Society | Ausgabe 1/2013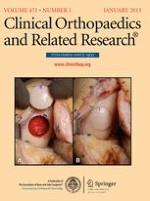 Do Fresh Osteochondral Allografts Successfully Treat Femoral Condyle Lesions?
Zeitschrift:
Autoren:

MD Yadin D. Levy, MD Simon Görtz, BSN Pamela A. Pulido, MPHc Julie C. McCauley, MD William D. Bugbee
Wichtige Hinweise
The institution of one of the authors (WBD) has received, during the study period, funding from the Joint Restoration Foundation (Centennial, CO, USA).
All ICMJE Conflict of Interest Forms for authors and
Clinical Orthopaedics and Related Research
editors and board members are on file with the publication and can be viewed on request.
Each author certifies that his or her institution approved the human protocol for this investigation, that all investigations were conducted in conformity with ethical principles of research, and that informed consent for participation in the study was obtained.
This work was performed at Scripps Clinic and Scripps Green Hospital (La Jolla, CA, USA).
Abstract
Background
Fresh osteochondral allograft transplantation is an increasingly common treatment option for chondral and osteochondral lesions in the knee, but the long-term outcome is unknown.
Questions/purposes
We determined (1) pain and function, (2) frequency and types of reoperations, (3) survivorship at a median of 13.5 years, and (4) predictors of osteochondral allograft failure in the distal femur.
Methods
We evaluated 122 patients (129 knees) who underwent osteochondral allograft transplantation of the femoral condyle. Mean age was 33 years and 53% were male. Clinical evaluation included the modified Merle d'Aubigné-Postel (18-point), IKDC, and Knee Society function (KS-F) scores. We defined graft failure as revision osteochondral allografting or conversion to arthroplasty. We determined whether patient characteristics or attributes of the graft influenced failure. Minimum followup was 2.4 years (median, 13.5 years); 91% had more than 10 years of followup.
Results
Mean modified Merle d'Aubigné-Postel score improved from 12.1 to 16, mean IKDC pain score from 7.0 to 3.8, mean IKDC function score from 3.4 to 7.2, and mean KS-F score from 65.6 to 82.5. Sixty-one knees (47%) underwent reoperations. Thirty-one knees (24%) failed at a mean of 7.2 years. Survivorship was 82% at 10 years, 74% at 15 years, and 66% at 20 years. Age of more than 30 years at time of surgery and having two or more previous surgeries for the operated knee were associated with allograft failure.
Conclusions
Followup of femoral condyle osteochondral allografting demonstrated durable improvement in pain and function, with graft survivorship of 82% at 10 years.
Level of Evidence
Level IV, therapeutic study. See the Instructions for Authors for a complete description of levels of evidence.