23.06.2018 | Original Paper | Ausgabe 9/2018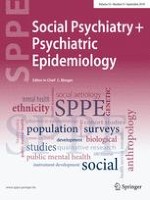 Do trauma type, stressful life events, and social support explain women veterans' high prevalence of PTSD?
Zeitschrift:
Autoren:

Keren Lehavot, Simon B. Goldberg, Jessica A. Chen, Jodie G. Katon, Joseph E. Glass, John C. Fortney, Tracy L. Simpson, Paula P. Schnurr
Wichtige Hinweise
Electronic supplementary material
Abstract
Objectives
To examine factors that account for women veterans' higher prevalence of past-year DSM-5 posttraumatic stress disorder (PTSD) compared to women civilians and men veterans.
Methods
Cross-sectional analyses of the 2012–2013 National Epidemiologic Survey on Alcohol and Related Conditions-III (NESARC-III). Face-to-face interviews with 379 women veterans, 20,007 women civilians, and 2740 men veterans were conducted. Trauma type (child abuse, interpersonal violence, combat or war zone, and other), number of trauma types, past-year stressful life events, current social support, and DSM-5 PTSD were assessed using the Alcohol Use Disorder and Associated Disabilities Interview Schedule-5. Generalized linear models were used that accounted for the complex survey design.
Results
Women veterans had a higher unadjusted prevalence of past-year PTSD (11.40%) compared to their civilian (5.96%) and male (5.19%) counterparts. Individual predictor models indicated that the difference between women veterans' and civilians' prevalence of PTSD was attenuated when adjusting for number of trauma types, whereas the difference between men and women veterans was attenuated when adjusting for child abuse, interpersonal violence, and stressful life events. Nonetheless, while full adjustment in a multiple predictor model accounted for the difference in PTSD between women veterans and civilians, gender differences between men and women veterans remained.
Conclusions
Number of trauma types, type of trauma, and social factors may together help explain women veterans' higher PTSD prevalence compared to women civilians, but do not fully account for differences between men and women veterans. Results highlight a need to explore additional explanatory factors and evaluate associations with longitudinal data.