01.12.2018 | Research | Ausgabe 1/2018 Open Access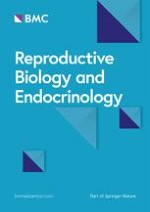 Docosahexaenoic acid (DHA) effects on proliferation and steroidogenesis of bovine granulosa cells
Zeitschrift:
Autoren:

Virginie Maillard, Alice Desmarchais, Maeva Durcin, Svetlana Uzbekova, Sebastien Elis
Wichtige Hinweise
Electronic supplementary material
Abstract
Background
Docosahexaenoic acid (DHA) is a n-3 polyunsaturated fatty acid (PUFA) belonging to a family of biologically active fatty acids (FA), which are known to have numerous health benefits. N-3 PUFAs affect reproduction in cattle, and notably directly affect follicular cells. In terms of reproduction in cattle, n-3 PUFA-enriched diets lead to increased follicle size or numbers.
Methods
The objective of the present study was to analyze the effects of DHA (1, 10, 20 and 50 μM) on proliferation and steroidogenesis (parametric and/or non parametric (permutational) ANOVA) of bovine granulosa cells in vitro and mechanisms of action through protein expression (Kruskal-Wallis) and signaling pathways (non parametric ANOVA) and to investigate whether DHA could exert part of its action through the free fatty acid receptor 4 (FFAR4).
Results
DHA (10 and 50 μM) increased granulosa cell proliferation and DHA 10 μM led to a corresponding increase in proliferating cell nuclear antigen (PCNA) expression level. DHA also increased progesterone secretion at 1, 20 and 50 μM, and estradiol secretion at 1, 10 and 20 μM. Consistent increases in protein levels were also reported for the steroidogenic enzymes, cytochrome P450 family 11 subfamily A member 1 (CYP11A1) and hydroxy-delta-5-steroid dehydrogenase, 3 beta- and steroid delta-isomerase 1 (HSD3B1), and of the cholesterol transporter steroidogenic acute regulatory protein (StAR), which are necessary for production of progesterone or androstenedione. FFAR4 was expressed in all cellular types of bovine ovarian follicles, and in granulosa cells it was localized close to the cellular membrane. TUG-891 treatment (1 and 50 μM), a FFAR4 agonist, increased granulosa cell proliferation and MAPK14 phosphorylation in a similar way to that observed with DHA treatment. However, TUG-891 treatment (1, 10 and 50 μM) showed no effect on progesterone or estradiol secretion.
Conclusions
These data show that DHA stimulated proliferation and steroidogenesis of bovine granulosa cells and led to MAPK14 phosphorylation. FFAR4 involvement in DHA effects requires further investigation, even if our data might suggest FFAR4 role in DHA effects on granulosa cell proliferation. Other mechanisms of DHA action should be investigated as the steroidogenic effects seemed to be independent of FFAR4 activation.