01.12.2018 | Review | Ausgabe 1/2018 Open Access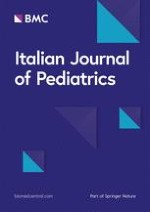 Does a low FODMAPs diet reduce symptoms of functional abdominal pain disorders? A systematic review in adult and paediatric population, on behalf of Italian Society of Pediatrics
Zeitschrift:
Autoren:

Rossella Turco, Silvia Salvatore, Erasmo Miele, Claudio Romano, Gian Luigi Marseglia, Annamaria Staiano
Abstract
Background
Despite the rising of the Functional Gastrointestinal Disorders (FGIDs)' incidence in the last years, the etio-pathogenesis of FGIDs remains unclear. The diet seems to play an important role in these disorders. Indeed, at least two thirds of adult patients with Irritable Bowel Syndrome (IBS) and of children with FGIDs perceive their GI symptoms to be food-related. In particular, in the last years, more interest has been focused in the low Fermentable Oligosaccharides, Disaccharides, Monosaccharides, and Polyol (FODMAPs) diet.
Aims
To provide a systematic review on the efficacy of a low FODMAPs diet in reducing symptoms associated with functional abdominal pain disorders.
Methods
Cochrane Library, MEDLINE (via Pubmed), and EMBASE databases from inception to June 2017 were searched. We included randomized controlled trials (RCTs), prospective and retrospective studies, systematic reviews and meta-analyses, reporting the efficacy of the FODMAPs diet intervention in FGIDs patients.
Results
Nineteen studies were eligible. A FODMAPs-restricted diet is beneficial in 12/13 intervention trials. The low FODMAPs diet improves overall GI symptoms, especially abdominal pain and bloating. In children, only one study reported positive results of a low FODMAPs diet. No effect was found for the lactose free diet whilst fructose-restricted diet was effective in 3/4 studies. The duration of the intervention was very different among the studies, ranging from 2 days to 16 months, and from 3 and 9 weeks for the RCTs. The majority of the trials presented differences in symptoms scoring scales, diet, food diaries, and food frequencies questionnaire.
Conclusions
The FODMAPs-restricted diet may be an effective dietary intervention for reducing IBS symptoms in adults. In children, there are promising data, although only one randomized double-blind study exists and further data are needed to better clarify the role of FODMAPs and fructose-restricted diet in IBS. The current evidence does not support the use of a lactose-restricted diet in children with FGIDs.