01.08.2013 | Clinical Research | Ausgabe 8/2013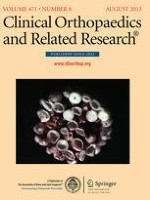 Does Early Functional Outcome Predict 1-year Mortality in Elderly Patients With Hip Fracture?
Zeitschrift:
Autoren:

MD, PhD Emilija Dubljanin-Raspopović, MD, PhD Ljiljana Marković-Denić, MD, PhD Jelena Marinković, MD Una Nedeljković, MD, PhD Marko Bumbaširević
Wichtige Hinweise
One or more of the authors (ED-R, LM-D) has received funding from the Ministry of Education and Science, Contract No. 175046, 2011–2014.
Each other author certifies that he, she, or a member of his or her immediate family, has no funding or commercial associations (eg, consultancies, stock ownership, equity interest, patent/licensing arrangements, etc) that might pose a conflict of interest in connection with the submitted article.
All ICMJE Conflict of Interest Forms for authors and
Clinical Orthopaedics and Related Research
editors and board members are on file with the publication and can be viewed on request.
Each author certifies that his or her institution approved the human protocol for this investigation, that all investigations were conducted in conformity with ethical principles of research, and that informed consent for participation in the study was obtained.
This work was performed at the Clinic for Orthopaedic Surgery and Traumatology, Clinical Center Serbia, Belgrade, Serbia.
Abstract
Background
Hip fractures in the elderly are followed by considerable risk of functional decline and mortality.
Questions/purposes
The purposes of this study were to (1) explore predictive factors of functional level at discharge, (2) evaluate 1-year mortality after hip fracture compared with that of the general population, and (3) evaluate the affect of early functional outcome on 1-year mortality in patients operated on for hip fractures.
Methods
A total of 228 consecutive patients (average age, 77.6 ± 7.4 years) with hip fractures who met the inclusion criteria were enrolled in an open, prospective, observational cohort study. Functional level at discharge was measured with the motor Functional Independence Measure (FIM) score, which is the most widely accepted functional assessment measure in use in the rehabilitation community. Mortality rates in the study population were calculated in absolute numbers and as the standardized mortality ratio. Multivariate regression analysis was used to explore predictive factors for motor FIM score at discharge and for 1-year mortality adjusted for important baseline variables.
Results
Conclusions
Functional level at discharge is the main determinant of long-term mortality in patients with hip fracture. Motor FIM score at discharge is a reliable predictor of mortality and can be recommended for clinical use.
Level of Evidence
Level II, prognostic study. See Guidelines for Authors for a complete description of levels of evidence.