08.01.2018 | Original Research | Ausgabe 1/2018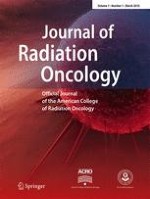 Does histology dictate outcomes of locally advanced rectal adenocarcinoma with complete pathological response following neoadjuvant chemoradiation?
Zeitschrift:
Autoren:

Rajesh S Shinde, Rahul Bhamre, Devayani Niyogi, Abhishek Mitra, Ashwin Desouza, Vikas Ostwal, Reena Engineer, Rohit Dusane, Avanish Saklani
Abstract
Introduction
Complete pathological response (pCR) is an independent prognostic factor for favorable outcome in locally advanced rectal cancer treated with neoadjuvant chemoradiotherapy (NACTRT). Various studies have reported pCR rates of approximately 15–25%. Various predictive factors of pCR are described and these include tumor size, histological subtype, clinical stage at presentation, negative circumferential resection margin (CRM), different neoadjuvant regimen, and interval between NACTRT and surgery. Some histological subtypes like signet cell have historically been associated with poor outcome. However, there is no study that analyzes the impact of histological subtype after pCR has been achieved. We intended to assess the impact of histological subtype on long-term outcome in patients who have achieved pCR.
Patients and methods
Seventy-three consecutive patients of locally advanced rectal cancer, who had pCR after long-course NACTRT in the period between 2013 and 2015, were included in the analysis. The study population was grouped into three histological groups (signet, mucinous, and non-signet non-mucinous). These three groups were compared with respect to recurrence rate, recurrence pattern, disease-free survival (DFS), and overall survival (OS).
Results
The study cohort was divided into three groups—signet (16.4%), mucinous (24.6%), and non-signet non-mucinous adenocarcinoma (59%). Median age was 43 years and mean pre-treatment carcino-embryonic antigen level was 9.1 ng/ml. With a median follow-up time of 35 months, 3-year OS and DFS rates were found to be 92.5 and 75.3%, respectively. There was no significant difference in OS and DFS amongst the three groups.
Conclusion
Histological subtype does not affect the long-term outcomes in patients who achieve pathological complete response to preoperative chemoradiation.