01.12.2018 | Research article | Ausgabe 1/2018 Open Access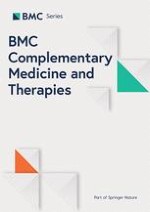 Does Jacobson's relaxation technique reduce consumption of psychotropic and analgesic drugs in cancer patients? A multicenter pre–post intervention study
Zeitschrift:
Autoren:

Paula Parás-Bravo, Cristina Alonso-Blanco, María Paz-Zulueta, Domingo Palacios-Ceña, Carmen María Sarabia-Cobo, Manuel Herrero-Montes, Ester Boixadera-Planas, César Fernández-de-las-Peñas
Abstract
Background
Cancer patients often suffer from emotional distress as a result of the oncological process. The purpose of our study was to determine whether practice of Jacobson's relaxation technique reduced consumption of psychotropic and analgesic drugs in a sample of cancer patients.
Methods
This was a multicenter pre–post intervention design. Participants were 272 patients aged over 18 years attending 10 Spanish public hospitals with oncological pathologies and anxiety symptoms. The intervention consisted of a protocol of abbreviated progressive muscle relaxation training developed by Bernstein and Borkovec. This was followed up by telephone calls over a 1-month period. The intervention was performed between November 2014 and October 2015. Sociodemographic variables related to the oncological process, mental health variables, and intervention characteristics were measured.
Results
A reduction in the consumption of psychotropic and analgesic drugs was observed throughout the follow-up period. Improvement was observed throughout the 4-week follow-up for all the parameters assessed: anxiety, relaxation, concentration, and mastery of the relaxation technique.
Conclusions
The practice of abbreviated Jacobson's relaxation technique can help to decrease the consumption of psychotropic and analgesic drugs. Patients experienced positive changes in all the evaluated parameters, at least during the 1-month follow-up. To confirm these findings, additional long-term studies are needed that include control groups.
Trial registration
ISRCTN
81335752
, DOI 10.1186/ISRCTN81335752 17. Date of registration: 22/11/2016 (retrospectively registered).