01.02.2014 | 2013 SSAT Plenary Presentation | Ausgabe 2/2014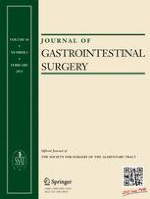 Does Resident Experience Affect Outcomes in Complex Abdominal Surgery? Pancreaticoduodenectomy as an Example
Zeitschrift:
Autoren:

Daniel M. Relles, Richard A. Burkhart, Michael J. Pucci, Jocelyn Sendecki, Renee Tholey, Ross Drueding, Patricia K. Sauter, Eugene P. Kennedy, Jordan M. Winter, Harish Lavu, Charles J. Yeo
Wichtige Hinweise
Presented as an oral presentation at the SSAT Residents and Fellows Research Conference, 17 May 2013, a podium presentation at Pancreas Club, 18 May 2013, and a plenary presentation at the 54th Annual Meeting of the Society for Surgery of the Alimentary Tract, 21 May 2013; Orlando, FL USA.
Discussion
Dr. Stanley Ashley (Boston, Massachusetts):
Thank you Dr. Relles for a great presentation. I want to congratulate you and your group for tackling such a provocative topic. I had several questions. I was interested in your choice of technically related complications that might be influenced by the resident—for example, do you really think that DGE is determined by the technical precision of the anastomosis? How about wound infection?
I was also concerned that, although you standardized resident involvement in the reconstruction, the resection was not so standardized—I think many of us would suggest that the ease of the reconstruction often depends on the precision and timing of the resection—for example, long difficult resections with considerable blood loss often are associated with much more edema and a more difficult reconstruction—would you comment on the effects that may have had on your data? Were you really able to control for differences in the attending surgeon? For example, one might speculate that the residents all got their early experience with one or two of the attendings but that that the senior surgeon only worked with the more experienced.
Finally, I wonder if you would comment on where this leaves us? As our quality metrics get better, I think we are going to have to continue to deal with the issue that experience improves outcome. Not only at the resident level but a new attending surgeon is not going to look as good as someone whose done 60 or 100 such procedures—how, in this value-focused new world, do we justify worse outcomes so that surgeons can get the experience? Should this be part of informed consent?
Closing Discussant
Dr. Daniel Relles:
Thank you Dr. Ashley for your kind words, thoughtful consideration and keen insights.
We identified DGE as a technical-related complication as it might suggest the presence of a subclinical anastomotic (likely pancreaticojejunostomy, PJ) leak. We typically remove operatively placed drains with "non-sinister" appearing output early in the postoperative course. Thus, a subset of our patients may have PJ leaks that are not otherwise identified, but manifest as DGE. Additionally, although many risk factors increase the odds of a wound infection (most of which relate to patient factors), this complication should also be considered in relation to technical aspects, such as anastomotic dehiscence, blood loss, operative time, or intraoperative spillage of biliary or enteric contents.
We certainly agree with you that not all resections are alike, and this remains the biggest potential source of error in our study. Because we do not know how much of the operative time or blood loss occurs in the extirpative or reconstructive portion of the procedure, we are unable to control for these variables. We could only adjust for attending surgeon based on their primary role in the case. Additionally, all residents operated with at least two of the attending surgeons.
The finding that outcomes improve as residents build experience with PD has an obvious corollary implying that inexperienced assistants have worse outcomes. The implications of this conclusion in terms of ethics or public perception are not new and are similar to interpretations of prior studies supporting the presence of a learning curve for any procedure or surgeon. Complication rates differ depending on the attending surgeon, the procedure, and the hospital system in which care is delivered and these are not a part of the consent process. Additionally, our complication rates continue to meet or exceed previous studies from similar high-volume centers for pancreatic resections.
Abstract
Objectives
Understanding the factors contributing to improved postoperative patient outcomes remains paramount. For complex abdominal operations such as pancreaticoduodenectomy (PD), the influence of provider and hospital volume on surgical outcomes has been described. The impact of resident experience is less well understood.
Methods
We reviewed perioperative outcomes after PD at a single high-volume center between 2006 and 2012. Resident participation and outcomes were collected in a prospectively maintained database. Resident experience was defined as postgraduate year (PGY) and number of PDs performed.
Results
Forty-three residents and four attending surgeons completed 686 PDs. The overall complication rate was 44 %; PD-specific complications (defined as pancreatic fistula, delayed gastric emptying, intraabdominal abscess, wound infection, and bile leak) occurred in 28 % of patients. The overall complication rates were similar when comparing PGY 4 to PGY 5 residents (55.3 vs. 43.0 %;
p
 > 0.05). On univariate analysis, there was a difference in PD-specific complications seen between a PGY 4 as compared to a PGY 5 resident (44 vs. 27 %, respectively;
p
 = 0.016). However, this was not statistically significant when adjusted for attending surgeon. Logistic regression demonstrated that as residents perform more cases, PD-specific complications decrease (OR = 0.97;
p
 < 0.01). For a resident's first PD case, the predicted probability of a PD-specific complication is 27 %; this rate decreases to 19 % by resident case number 15.
Conclusions
Complex cases, such as PD, provide unparalleled learning opportunities and remain an important component of surgical training. We highlight the impact of resident involvement in complex abdominal operations, demonstrating for the first time that as residents build experience with PD, patient outcomes improve. This is consistent with volume–outcome relationships for attending physicians and high-volume hospitals. Maximizing resident repetitive exposure to complex procedures benefits both the patient and the trainee.