01.12.2012 | Research article | Ausgabe 1/2012 Open Access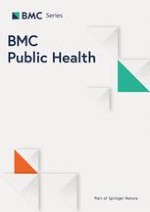 Does social capital travel? Influences on the life satisfaction of young people living in England and Spain
Zeitschrift:
Autoren:

Antony R Morgan, Francisco Rivera, Carmen Moreno, Bo JA Haglund
Wichtige Hinweise
Electronic supplementary material
The online version of this article (doi:
10.​1186/​1471-2458-12-138
) contains supplementary material, which is available to authorized users.
Antony R Morgan, Francisco Rivera, Carmen Moreno and Bo JA Haglund contributed equally to this work.
Competing interests
The authors declare that they have no competing interests.
Authors' contributions
AM conceived and designed the study and made the first draft of the manuscript
FR performed the statistical analysis. CM participated in the design of the study and contributed to revisions to the manuscript. BJAH participated in redrafts of the manuscript. All authors read and approved the final manuscript
Background
This study used a social capital framework to examine the relationship between a set of potential protective ('health assets') factors and wellbeing amongst 15 year adolescents living in Spain and England The overall purpose was to compare the consistency of these relationships between countries and to investigate their respective relative importance. In addition it explored whether there was an optimum profile of factors that maximised the possibilities of wellbeing in the study population.
Methods
Results
Overall there were no statistical differences in life satisfaction between Spanish and English adolescents (means of 7.15 and 6.99 respectively) (t = 2.533,
p
> 0.01, Cohen's
d
0.09)
Univariate analysis
Table
1
shows the frequency distributions of all independent variables of interest for Spain and England. No statistical differences in the patterns of distribution between the 2 countries were found for gender, sense of family belonging (SSB), school autonomy and control (SAC), school social support (SSS) or peer social support (PSS). Differences were observed however, for family autonomy and control (FAC), family social support (FSS) and sense of belonging both at school (SSB) and in the neighbourhood (NSB). The largest differences were found for FAC (X
2
= 194.044,
p
= < 0.001,
V
= 0.244) and FAS (
X
2
= 287.48,
p
= < 0.001,
V
= 0.282. For example, for FAC the distribution in England ranged from 69% to 3% compared to 46% and 10% for Spanish counterparts. Spanish respondents were much more likely to report that they lived in a family with low affluence (27.9%) compared with 6.6% in England).
Differences were also observed for FSS (,
X
2
= 37.324.
p
= < 0.001,
V
= 0.108) SSB and NSB (
X
2
= 130.558,
p
= < 0.001,
0056
= 0.0.190;
X
2
= 93.212,
p
= < 0.001,
V
= 0.168 respectively). In this regard Spanish respondents were more likely to report consistently higher levels across these attributes.
Bivariate analysis
Tables 3 summarises the associations found between individual candidate assets and life satisfaction in each of the countries and all relationships were found to be significant. However, the magnitude of difference between countries was most marked for FAC (in the case of England, the effect size is much greater -Cohen's
d
= 1.34 than in Spain -Cohen's d = 0.82), which had a greater impact on life satisfaction in England. Mean values of life satisfaction in England range from 7.38 (high FAC) to 5.12 (low FAC) compared to the 7.51 (high FAC) to 6.23 (low FAC) in Spain.
Gender was significantly related to life satisfaction in both countries but family affluence only in England.
General Linear Modelling (GLM)
Table
4
shows the results of the GLM and highlights that taken together the candidate assets included in the model explained 20% and 19% of the variance in life satisfaction in Spain and England respectively. For the purposes of this analysis candidate assets with partial eta squared estimates > 0.01 were considered to be important influences on life satisfaction.
Observing the models produced for both countries, 3 measures of social capital and 2 measures of social support were found to be important. However, the relative importance of these factors within each country differed. In Spain, FSS and SSB explained the largest amount of variance (F = 20.43
p
< .0.001; partial η
2
= .031 and F = 18.33
p
< .0.001; partial η
2
= .028 respectively). FAC and SSS explained less of the variance (1% each) but were still significant in the model. In England, whilst similar social capital and social support factors were shown to be important, a somewhat different configuration was observed. In this case, the candidate asset displaying the largest proportion of variance was FAC (F = 19.32,
p
< .0.001; partial η
2
= .027) followed by FSS and SSB (each explaining 3%) and then SSB (1%). Family affluence (FAS) was also highlighted as significant in England.
Tree analysis
The decision trees (Figures
2
and
3
) show how each of the independent variables interact to predict life satisfaction. All independent variables found to be significantly related to life satisfaction during bivariate analysis in the respective countries were included in this part of the analysis.
Each tree generated 3 levels, a different constellation of factors was observed for each country. In England, the optimum configuration of factors consisted of FAC (
p
= < 0.000, F = 36.272), SSB (
p
= < 0.000, F 29.442) and FSS (
p
= < 0.000, F 21.043). High levels of these potential assets reinforced the possibilities for improved life satisfaction from a base mean of 7.08 to 7.9. In contrast in Spain the maximum mean value of life satisfaction was achieved with high levels of FSS (
p
= < 0.000, F 61.329), SSS (
p
= < 0.000, F 30.466) and NSB (
p
= < 0.000, F 11.174), rising from 7.17 to 8.20.
Figures
2
and
3
also illustrate how decision trees can help to highlight assets that might be important when others at higher node levels are absent. For example, in Spain even those with medium levels of FSS (mean life satisfaction lower than mean for node 0), but have higher levels of school sense of belonging (SSS) can see observed improvements in life satisfaction.
Discussion
Firstly, it is important to note that contrary to other reports [
6
] the study found the wellbeing of 15 year olds living in Spain and England to be similar, most reporting high levels of overall satisfaction with life. If pathways to health are to be articulated then this points to the need to work with precise definitions of health related concepts so that the antecedents and consequences of them can be determined.
There is some evidence amongst the sample population that social capital and social support can operate as protective factors and that it is possible to see an additive effect when more than one of them is in place. However, whilst a similar set of candidate assets were found to be important in both countries, their relative importance and interactions differed which may have implications for how initiatives are configured in Spain and England.
Contexts
The findings concur with other studies [
40
], to suggest that even at age 15, the home and school remain important environments for building social capital.
Family
There is no shortage of evidence to demonstrate that building warm loving and positive relationships in the home are essential for securing the healthy development of children and young people [
53
]. One might have expected the older cohort of adolescents chosen for this study, to portray less reliance on the family for their wellbeing compared to other contexts. However, results from both the GLM and decision tree analysis showed that the family as a setting remained an important source of social capital and social support. In England, FAC (respondent's perception of how much say they had in making decisions about what they do) was shown consistently in both multivariate analyses to be protective of life satisfaction. The decision tree analysis showed that mean life satisfaction could be improved when high levels of FAC were observed. Duke et al. [
54
] have already shown that strong connections in the family can improve the likelihood of participation in more formal networks in adulthood. It may then be that families that provide open spaces for shared decision making are fostering the skills and competences required for active participation in community and civic life in the future.
In Spain, the candidate asset most commonly featured in both the GLM and the decision tree analysis was FSS (expressed as the ease of access to help and affection during times of difficulty) the latter highlighting significantly enhanced life satisfaction with high levels of FSS.
The intricacy of these findings suggests that the family as a unit needs to be understood in different country contexts. Fifteen year olds in England seem to put greater emphasis on becoming independent whereas Spanish adolescents gain more from direct family social support. These findings may reflect the nature of family life in general in Spain--albeit it changing-- that is orientations towards close bonds between family members and high levels of general support - often maintained into early adulthood [
55
]. That said, FSB, a sub component of social capital, characterised by the extent of families doing things together, did not appear in either multivariate analysis carried out for the Spanish sample.
School
The potential of school to be protective of health is well known [
56
]) and Morrow [
40
] found that from a young person's perspective, school was an important 'community' in its own right. In this study the role of school was found to be important but secondary to the impact that family life can have on wellbeing. In England SSB manifested through a range of positive relationships and feelings of security amongst classmates, is identified as another potential health asset. It features as a key predictor of life satisfaction in the GLM and a second level protective factor in the decision tree analysis. Those adolescents with both high levels of FAC and SSB achieve higher life satisfaction compared to the sample as a whole. Other school factors do not appear in either of the English multivariate analyses. In Spain, whilst SSB nears FSS in importance in the GLM, it is SSS (the feelings of social support available from the teacher), that feature in the decision tree as a second level protector of wellbeing. Life satisfaction continues to improve for those who have high levels of FSS and SSS. Spanish adolescents, as in the family context, seem to gain more from direct support provided by teachers than the feelings of belonging to a class group.
Other contexts
It is well known that the peer group can contribute to the maintenance and reinforcement of both negative and positive health related outcomes, however in this study there was no evidence it was predictive of wellbeing in either country. This lack of evidence may have something to do with the definition of this particular candidate asset (a combination of same sex and opposite sex friendships). Stanton-Salazar and Spina [
57
] found friendships between adolescent males and females provided a more stable source of peer support, and therefore there may some masking of protective effect in our analysis. Other studies [
58
,
59
] have shown that neighbourhood social capital can be protective of a range of positive outcomes for young people. However, NSB was only marginally represented in the multivariate analysis results for Spain. Certainly, its absence from the English results may confirm Morrow's earlier work that young people to put greater importance on their interpersonal networks based on friendship and family to secure their sense of belonging and well-being. The absence of the neighbourhood indicator of social capital may be more to do with the fact that young people are often exclude from the possibilities to participate in community and civic life.
Finally, country differences were found in the relationship between FAS and life satisfaction. In England it was found to explain some of the variance in life satisfaction but to a lesser extent than the candidate assets associated with family and school. It was absent from all the analysis in Spain. This may be because whilst there may be a divide between those who are poorest in society and the rest of the population, the gap between those in the middle and higher strata is much less distinct.
Country
At one level, this study clarifies that there is a consistency of relationship between the range of assets chosen for study and the life satisfaction of 15 year olds living in Spain and England. However on further examination, the study appears to affirm the idea that social capital is not a 'one size fits all' concept [
24
], and its optimum configuration needs to be understood alongside other related assets and specifically in relation to the cultural context within which it is being applied. The subtle differences found between Spain and England could reflect the broader cultural contexts between the 2 countries. At a general level, it is still true to say that societal values in Spain lean more towards the collective rather than the individual encouraging member's interdependence. This emphasizes the cultural and social relations associated with Mediterranean traditions especially in the role of the family as emotional support [
60
]. This might explain why in Spain, the social support assets have more prominence. Although, the reality is that in most Western societies, individualistic and collectivist cultural models act on a continuum, making the subtlety of these results difficult to interpret.
Strengths and limitations
This study has a number of strengths. Firstly, HBSC survey provides a unique source of information on the social context of young people's lives allowing systematic examination of both the risks and protective factors that might determine health. It also, provides the ability to examine the precursors to health across a range of different cultures, hence testing the universality of social capital in different contexts. This study limited the comparisons to England and Spain to illustrate the impact that socio-cultural differences can have, however the HBSC provides the potential for the analysis to be replicated in a range of other country contexts.
Secondly, the health asset approach provides a helpful perspective by placing social capital as a positive resource during the development phase of adolescence and recognises that its individual constructs may be important as protective factors in their own right.
Finally it embraces the multi-dimensional nature of social capital to explore their interconnectedness compared to may other studies on social capital that have investigated single aspects. Whilst longitudinal studies are required to determine the linkages between its different indicators and importantly highlighting them as either antecedents or consequences of social capital, this study through its tree analysis has demonstrated how they might work together to maximise wellbeing.
As with all studies, there are a number of limitations. Most obviously, the cross sectional nature of HBSC limits the ability to deal with causation and therefore the direction of relationships found. That said, exploration of these relationships across different country contexts has helped to suggest some possible pathways to health for future investigation.
Conclusions
There is some evidence to suggest that social capital (and its related concept of social support) do travel and are applicable in Spain and England. Some of its underlying constructs namely, family autonomy and control and school sense of belonging were found to be important predictors of wellbeing alongside more traditional indicators of social support. Given the different constellation of assets found in each country, it is not possible (or desirable) to define exactly the precise formula for applying social capital across cultures. This needs to be defined at the programme planning stage. Given the importance of family and school as settings for wellbeing, it is likely that individualistic notions of social capital are more prominent for young people whereby the social resources acquired through connections to others helps them to navigate their social environments. That said, the future potential for young people to contribute to social capital generation through participation in community life may depend on the accumulation of resources (health assets) accrued in theses contexts as they grow up.
Acknowledgements
The English and Spanish HBSC studies were funded by the Department of Health in England and the Ministry of Health in Spain.
This article is published under license to BioMed Central Ltd. This is an Open Access article distributed under the terms of the Creative Commons Attribution License (
http://​creativecommons.​org/​licenses/​by/​2.​0
), which permits unrestricted use, distribution, and reproduction in any medium, provided the original work is properly cited.
Competing interests
The authors declare that they have no competing interests.
Authors' contributions
AM conceived and designed the study and made the first draft of the manuscript
FR performed the statistical analysis. CM participated in the design of the study and contributed to revisions to the manuscript. BJAH participated in redrafts of the manuscript. All authors read and approved the final manuscript