01.12.2015 | Research article | Ausgabe 1/2016 Open Access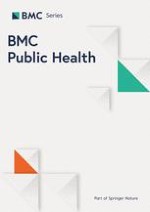 Does the public receive and adhere to boil water advisory recommendations? A cross-sectional study in Newfoundland and Labrador, Canada
Zeitschrift:
Autoren:

Andria Jones-Bitton, Diana L. Gustafson, Kelly Butt, Shannon E. Majowicz
Wichtige Hinweise
Competing interests
The third author is currently employed by a regional health authority in Newfoundland and Labrador but was a Masters student at the time the research was conducted.
The authors declare that they have no competing interests.
Authors' contributions
AJB conceived and designed the study, analyzed and interpreted the data, drafted and revised the manuscript. DLG contributed to the design of the study, the interpretation of the data, and drafting and revision of the manuscript. KB contributed to the design of the study, the collection of data, and drafting of an earlier version of the manuscript. SEM contributed to the interpretation of data and the revision of the manuscript. All authors read and approved the final manuscript.
Abstract
Background
Highly publicized water supply problems highlight the importance of safe drinking water to the public. Boil water advisories (BWAs) are an important precautionary measure meant to protect public health by ensuring drinking water safety. Newfoundland and Labrador, Canada is a prime location for exploring public notification practices and adherence to recommendations as there were a total of 215 BWAs, affecting 6 % of the provincial population, in 145 communities between April 2006 and March 2007 when data for the present study were collected.
Methods
Residents who received household water from a public water supply were randomly selected for a telephone interview. Collected data included participants' notification of boil water advisory, satisfaction with information provided, and their adherence to recommendations.
Results
Most participants learned that a BWA had been issued or lifted in their community through radio, television, or word of mouth. BWAs were issued for a range of operational reasons. Almost all participants who had experienced a BWA reported wanting more information about the reasons a BWA had been issued. Low adherence to water use recommendations during a BWA was common.
Conclusions
This study is first to report on public adherence to boil water advisory recommendations in Canada. The findings raise public health concerns, particularly given the high number of BWAs issued each year. Further studies in partnership with community stakeholders and government decision-makers responsible for overseeing public water systems are needed to assess the perceptions of BWAs, the reasons for non-adherence, and to identify information dissemination methods to increase information uptake and public adherence with acceptable uses of public drinking water during a BWA.