27.09.2016 | Original Article | Ausgabe 3/2017 Open Access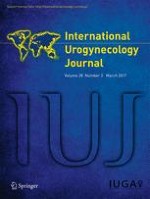 Does the vaginal wall become thinner as prolapse grade increases?
Zeitschrift:
Autoren:

Rhiannon Bray, Alex Derpapas, Ruwan Fernando, Vik Khullar, Demetri C. Panayi
Wichtige Hinweise
This abstract was presented at the 2016 IUGA Scientific Meeting and has been accepted for fast track publication.
Abstract
Introduction and hypothesis
The pathophysiology of prolapse is not well understood. However, two main theories predominate: either the fibromuscular layer of the vagina develops a defect/tears away from its supports, or its tissues are stretched and attenuated. The aim of this study was to assess how vaginal wall thickness (VWT) is related to vaginal prolapse.
Methods
The study group comprised 243 women with symptomatic prolapse recruited from the Outpatient Department of a tertiary referral centre for urogynaecology. A history was taken and women were examined to determine their POP-Q score. Using a previously validated technique, ultrasonography was used to measure the mean VWT at three anatomical sites on the anterior and posterior walls. Scores were then compared using
t
tests, the Kruskal-Wallis test and the Friedman test.
Results
The mean age of the patients was 59.7 years (SD 12.0 years range 38 – 84 years). For each measurement VWT reduced as prolapse grade increased until the prolapse extended beyond the hymen. Women with grade 3 prolapse had a significantly higher mean VWT than women with grade 1 or 2 contained prolapse. Menopause status did not have a significant effect on the VWT.
Conclusions
VWT is lower in women with vaginal prolapse until the prolapse extends beyond the hymen and then VWT is thicker and comparable with women without prolapse. This may be explained by changes in the vaginal tissue including reduction of collagen, elastin and smooth muscle, as well as fibrosis in exposed tissues, rather than by defects in the vagina.