02.04.2019 | Original Paper | Ausgabe 6/2019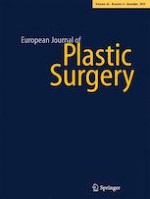 Does tranexamic acid increase the risk of thromboembolic events in immediate or delayed breast reconstruction? A review of the literature
Zeitschrift:
Autoren:

Ian C. C. King, Andrew J. Mellington, Anita Hazari, Martin E. Jones
Wichtige Hinweise
Publisher's note
Springer Nature remains neutral with regard to jurisdictional claims in published maps and institutional affiliations.
Abstract
Background
Tranexamic acid (TXA) is effective in reducing blood loss and minimizing transfusion requirements in acute trauma and in selected elective surgical procedures. Its utility within plastic surgery is presently limited. The role of TXA in both immediate and delayed breast reconstruction is contentious, with concerns centring on thromboembolic risk in oncological and microsurgical settings. We examined the current evidence for the safety and efficacy of TXA in breast surgery.
Methods
We searched PubMed, EMBASE and MEDLINE for studies in which TXA was used in breast surgery. The following terms were used: tranexamic acid, DVT (and deep vein/venous thrombosis), PE (and pulmonary embolus/emboli), mastectomy, mastopexy, breast augmentation, breast reconstruction, microsurgery/microsurgical and thromboembolic events/thromboembolus. All eligible studies were identified and full texts scrutinized.
Results
Three papers were identified in which TXA was directly considered in relation to surgical procedures of the breast. None were related to breast reconstruction, either autologous or implant-based. Two papers studied mastectomy and TXA; one paper examined topical TXA use following mammoplasty. These studies demonstrated that TXA reduced or made no difference to haematoma incidence and might reduce drain outputs. Thromboembolic events were not discussed in any of the studies.
Conclusions
Studies examining the role of TXA in breast surgery are limited. There is currently no evidence to support concerns that using TXA in patients undergoing mastectomy and/or breast reconstruction is associated with an increased risk of thromboembolic events. There remains, however, a lack of level 1 evidence for TXA use in breast surgery, including reconstruction.
Level of Evidence: Not ratable.