01.03.2012 | Movement Disorders - Original Article | Ausgabe 3/2012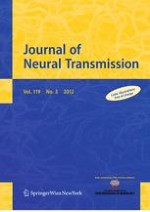 Does WOQ-9 help to recognize symptoms of non-motor wearing-off in Parkinson's disease?
Zeitschrift:
Autoren:

Martin Bareš, Irena Rektorová, Robert Jech, Kateřina Farníková, Jan Roth, Evžen Růžička, Petr Kaňovský, Ivan Rektor, Tomáš Pavlík, Leona Uhlířová, Jaroslav Vydlák
Wichtige Hinweise
This study is conducted on behalf of EWO study group.
Please refer the Appendix section for EWO study group members.
Abstract
EWO (Epidemiology of Wearing-Off symptoms among the population of Parkinson's disease (PD) patients on L-DOPA) is a multicentric, non-interventional, epidemiological and exploratory trial, focused on patients with PD who are treated with L-DOPA. The primary objective is the estimation of wearing-off symptoms (based on WOQ-9 questionnaire and assessment by neurologists) among PD patients who are treated with L-DOPA. From September 30, 2007 to June 30, 2008 altogether 563 valid records of PD patients were collected in movement disorders centers (Level A and Level B centers). Wearing-off symptoms were observed in 66.7% of PD patients (neurologists' assessment) and in 90.6% of PD patients (WOQ-9 questionnaire). The biggest discrepancy was found in PD patients treated with L-DOPA for 0–2 years. The probability of detecting wearing-off by the neurologists strongly correlated with the highest number of positive responses in the WOQ-9 marked by PD patients. There was significant difference in the diagnosis of wearing-off between Level A centers (77.7%) and Level B centers (62.0%). When motor and non-motor symptoms in the WOQ-9 were considered, the difference between neurologists came from the detection of non-motor symptoms (lower in the Level B centers). The neurologists' assessment of wearing-off symptoms and PD patients' subjective evaluation of the WOQ-9 is based on the experience of the neurologist and on the detection of the non-motor symptoms of wearing-off. Careful explanation of the WOQ-9 questionnaire and improved awareness of the non-motor symptoms of wearing-off is strongly suggested.