01.01.2012 | Original Paper | Ausgabe 1/2012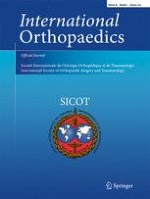 Dome osteotomy of the pelvis using a modified trochanteric osteotomy for acetabular dysplasia
Zeitschrift:
Autoren:

Qin Sheng Hu, Rehan Ul-Haq, Kyung Soon Park, Taek Rim Yoon, Keun Bae Lee
Abstract
Purpose
Kawamura described his dome osteotomy of the pelvis using a standard trochanteric osteotomy. Here we present results of our modification of Kawamura's dome osteotomy using a modified trochanteric osteotomy.
Methods
We retrospectively analysed 34 out of 36 patients operated upon between 1993 and 2008. We reviewed the mid-term functional and radiological results with a mean follow-up of 67 months. There were 23 females and 11 males with a mean age of 30 years.
Results
The mean Harris hip score improved from 60 to 85 (
p
 < 0.05) at the final follow-up. The functional results were excellent in 12, good in 14, fair in five and poor in three patients. Pain relief was a constant feature in all patients. Seventeen patients reported improvement in their ability to squat and sit cross-legged, 14 patients reported no change while three reported a worsening. Preoperatively 28 patients had an antalgic gait which improved in 14 patients following the surgery. Centre edge angle, acetabular angle, acetabular head index and weight bearing joint space improved significantly. This improved joint space was maintained at the last follow-up. Three cases had converted to total hip arthroplasty at the last follow-up.
Conclusion
The mid-term functional and radiological results of the dome osteotomy using modified trochanteric osteotomy were found to be satisfactory. We conclude that it is a reasonable treatment option for young patients with symptomatic acetabular dysplasia.