01.12.2014 | Research Article | Ausgabe 6/2014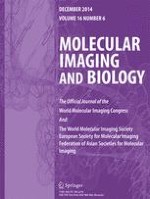 Dose-Dependent Uptake of 3′-deoxy-3′-[18 F]Fluorothymidine by the Bowel after Total-Body Irradiation
Zeitschrift:
Autoren:

Markus Hartenbach, Andreas Delker, Sabrina Hartenbach, Juli Schlichtiger, Sabrina Niedermoser, Carmen Wängler, Björn Wängler, Guido Böning, Franz Josef Gildehaus, Klement Neumaier, Kirsten Lauber, Klaus Kraft, Claus Belka, Marcus Hacker, Viktor Meineke, Peter Bartenstein
Abstract
Purpose
The aim of this study is to non-invasively assess early, irradiation-induced normal tissue alterations via metabolic imaging with 3′-deoxy-3′-[18 F]fluorothymidine ([18 F]FLT).
Procedures
Twenty-nine male C57BL/6 mice were investigated by [18 F]FLT positron emission tomography for 7 days after total body irradiation (1, 4, and 8 Gy) versus 'sham' irradiation (0 Gy). Target/background ratios were determined. The imaging results were validated by histology and immunohistochemistry (Thymidine kinase 1, Ki-67).
Results
[
18
 F]FLT demonstrated a dose-dependent intestinal accumulation post irradiation. Mean target/background ratio (±standard error) 0 Gy: 1.4 (0.2), 1 Gy: 1.7 (0.1), 4 Gy: 3.1 (0.3), 8 Gy: 4.2 (0.6). Receiver operating characteristic analysis (area under the curve,
p
value): 0 vs. 1 Gy: 0.81, 0.049; 0 vs. 4 Gy: 1.0, 0.0016; and 0 vs. 8 Gy: 1.0, 0.0020. Immunohistochemistry confirmed the results.
Conclusions
[18 F]FLT seems to provide dose-dependent information on radiation-induced proliferation in the bowel. This opens the perspective for monitoring therapy-related side-effects as well as assessing, e.g., radiation accident victims.