01.04.2013 | Original Paper | Ausgabe 4/2013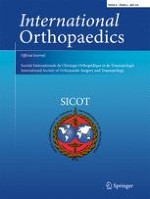 Double-bundle anatomical versus single-bundle isometric medial patellofemoral ligament reconstruction for patellar dislocation
Zeitschrift:
Autoren:

Cheng-hai Wang, Long-fei Ma, Jian-wei Zhou, Gang Ji, Hao-yu Wang, Fei Wang, Juan Wang
Wichtige Hinweise
Level of evidence: Therapeutic studies, level III.
Abstract
Purpose
The purpose of this study was to evaluate reconstruction of the medial patellofemoral ligament (MPFL) using the double-bundle anatomical or single-bundle isometric procedure with respect to the patients' clinical outcomes.
Methods
In this retrospective study, we evaluated the clinical outcome of double-bundle anatomical versus single-bundle isometric reconstruction of the MPFL for patellar dislocation patients. Sixty-three patients were included in this study from August 2004 to January 2008. From August 2004 to September 2006, MPFL reconstruction using a single-bundle isometric technique was performed in 21 patients (26 knees). Since October 2006, the double-bundle anatomical reconstruction of the MPFL has been used as the routine surgical procedure. It was performed in 37 patients (44 knees). Fifty-eight patients (70 knees) could be followed up. According to the different techniques, we divided the patients into two groups: group D with double-bundle anatomical reconstruction (37 patients) and group S with single-bundle isometric reconstruction (21 patients). Clinical evaluation consisted of the number with a patellar re-dislocation, patellar apprehension sign, Kujala score, subjective questionnaire score, the patella lateral shift rate and patellar tilt angle measured by cross-sectional CT scan.
Results
According to the Kujala score and the subjective questionnaire score, the outcome of the double-bundle group was better than the outcome of the single-bundle group especially in the long-term. Patellar re-dislocation occurred in three patients in the group S, while no re-dislocation occurred in the group D. In total, 26.9 % of group S was considered to have patellar instability, compared to 4.54 % of the group D. After operation, the patellar tilt angle (PTA) and the patella lateral shift rate (PLSR) were restored to the normal range, with statistical significance (
P
 < 0.05) compared to the preoperative state.
Conclusion
Single- and double-bundle reconstruction of the MPFL can both effectively restore patella stability and improve knee function. However, outcomes in the follow-up period showed that the double-bundle surgery procedure was much better than in single-bundle surgery.