01.12.2017 | Research article | Ausgabe 1/2017 Open Access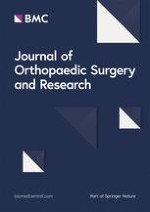 Double calcaneal osteotomy for severe adolescent flexible flatfoot reconstruction
Zeitschrift:
Autoren:

Yang Xu, Yong-xing Cao, Xing-chen Li, Yuan Zhu, Xiang-yang Xu
Abstract
Background
The timing and strategy of treatment for flatfoot still remain controversial. It is a difficult problem when facing severe adolescent flexible flatfoot because a single procedure cannot realign flatfoot deformity effectively.
Methods
We reviewed 13 adolescent flexible flatfoot patients who underwent double calcaneal osteotomy during May 2012 to June 2015. The mean age of patients was 15.2 ± 1.8 (range, 10–18) years. The American Orthopaedic Foot and Ankle Society Ankle-Hindfoot (AOFAS-AH) scores and SF-36 score were adopted to evaluate the preoperative and postoperative functions of the foot. Changes of hindfoot valgus angles, talonavicular uncoverage angles on AP view and talo-first metatarsal angles, and talar pitch angles and calcaneal pitch angles on the lateral film before and after surgery were measured.
Results
All 13 patients (15 ft) were followed. The mean duration of follow-up was 34.5 ± 15.7 (range, 21–60) months. The hindfoot valgus angle improved from 16.5 ± 4.1 to 2.9 ± 1.6. On the foot AP view, the mean preoperative and postoperative talonavicular coverage angles were 24.9 ± 8.5 and 6.5 ± 3.6. On the lateral view of the foot, the average preoperative and postoperative talo-first metatarsal angles were 18.1 ± 5.5 and 4.9 ± 4.4. The mean preoperative and postoperative talar pitch angles were 36.4 ± 4.7 and 24.0 ± 5.6. The AOFAS-AH score improved from 68.9 ± 12.3 preoperatively to 94.6 ± 3.9 postoperatively.
Conclusion
With additional procedures, double calcaneal osteotomy was an effective method for severe adolescent flexible flatfoot.