01.12.2017 | Original research article | Ausgabe 1/2017 Open Access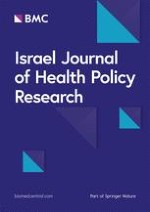 Double disparities in the health care for people with schizophrenia of an ethnic-national minority
Zeitschrift:
Autoren:

Gilad Gal, Hanan Munitz, Itzhak Levav
Abstract
Background
Studies have shown health care disparities among persons of minority status, including in countries with universal health care. Yet, a dearth of studies have addressed disparities resulting from the combined effect of two minority status groups: severe mental illness and ethnic-national sector filiation. This study aimed to compare the differential health care of Jewish- and Arab-Israelis with schizophrenia in a country with a universal health insurance.
Method
This study builds on a large case-control epidemiological sample (
N
= 50,499) of Jewish- (92.9%) and Arab-Israelis (7.1%) service users with (
n
= 16,833) and without schizophrenia (
n
= 33,666). Health services records were collected in the years 2000–2009. Diabetes and cardiovascular disease (CVD) served as sentinel diseases. We compared annual number of LDL tests and visits to specialists in the entire sample, Hemoglobin-A1C test among people diagnosed with diabetes, and cardiac surgical interventions for those diagnosed with CVD.
Results
Service users with schizophrenia were less likely to meet identical indexes of care as their study counterparts: 95% of cholesterol tests (
p
< .001), and 92% visits to specialists (
p
< .001). These differences were greater among Arab- compared to Jewish-Israelis. Annual frequency of Hemoglobin-A1C test among people diagnosed with diabetes was lower (94%) in people with schizophrenia (
p
< 0.01), but no ethnic-national differences were identified. Among service users with CVD less surgical interventions were done in people with schizophrenia (70%) compared to their counterparts, with no ethnic-national disparities.
Conclusions
In Israel, service users with schizophrenia fail to receive equitable levels of medical and cardiac surgical care for CVD and regular laboratory tests for diabetes. Although disparities in some health indicators were enhanced among Arab-Israelis, schizophrenia was a greater source of disparities than ethnic-national filiation.