01.12.2017 | Research | Ausgabe 1/2017 Open Access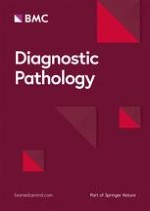 Double-hit lymphomas: clinical, morphological, immunohistochemical and cytogenetic study in a series of Brazilian patients with high-grade non-Hodgkin lymphoma
Zeitschrift:
Autoren:

Cristiano Claudino Oliveira, Helena Maciel-Guerra, Luan Kucko, Eric Jun Hirama, Américo Delgado Brilhante, Francisco Carlos Quevedo, Isabela Werneck da Cunha, Fernando Augusto Soares, Ligia Niero-Melo, Patrícia Pintor dos Reis, Maria Aparecida Custodio Domingues
Abstract
Background
Double-hit lymphomas (DHL) are rare high-grade neoplasms characterized by two translocations: one involving the gene
MYC
and another involving genes
BCL2
or
BCL6
, whose diagnosis depends on cytogenetic examination. This research studied DHL and morphological and/or immunophenotypic factors associated with the detection of these translocations in a group of high-grade non-Hodgkin lymphoma cases.
Method
Clinical and morphological reviews of 120 cases diagnosed with diffuse large B-cell lymphoma and Burkitt lymphoma were conducted. Immunohistochemistry (CD20, CD79a, PAX5, CD10, Bcl6, Bcl2, MUM1, TDT and Myc) and fluorescence
in situ
hybridization for detection of
MYC
,
BCL2
and
BCL6
gene translocations were performed in a tissue microarray platform.
Results
Three cases of DHL were detected: two with translocations of
MYC
and
BCL2
and one with translocations of
MYC
and
BCL6
, all leading to death in less than six months. Among 90 cytogenetically evaluable biopsies, associations were determined between immunohistochemistry and fluorescence
in situ
hybridization for
MYC
(
p
 = 0.036) and
BCL2
(
p
 = 0.001). However, these showed only regular agreement, indicated by Kappa values of 0.23 [0.0;0.49] and 0.35 [0.13;0.56], respectively. "Starry sky" morphology was strongly associated with
MYC
positivity (
p
 = 0.01). The detection of three cases of DHL, all resulting in death, confirms the rarity and aggressiveness of this neoplasm.
Conclusions
The "starry sky" morphological pattern and immunohistochemical expression of Myc and Bcl2 represent possible selection factors for additional cytogenetic diagnostic testing.