01.11.2010 | Symposium: Highlights of the ISOLS/MSTS 2009 Meeting | Ausgabe 11/2010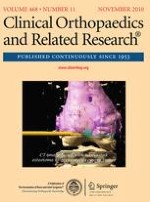 Double Ray Amputation for Tumors of the Hand
Zeitschrift:
Autoren:

MBBS Mark E. Puhaindran, MD Edward A. Athanasian
Wichtige Hinweise
Each author certifies that he or she has no commercial associations (eg, consultancies, stock ownership, equity interest, patent/licensing arrangements, etc) that might pose a conflict of interest in connection with the submitted article.
Each author certifies that his institution has approved the reporting of this study and that all investigations were conducted in conformity with ethical principles of research.
This work was performed at Memorial Sloan-Kettering Cancer Center, New York, NY, USA.
Abstract
Background
Partial hand amputations for malignant tumors allow tumor resection with negative resection margins, which is associated with lower local recurrence rates and improved overall survival while preserving native tissue, which improves functional outcome.
Questions/purposes
We conducted this study to assess the functional outcome of double ray amputations of the hand.
Methods
We retrospectively reviewed the records of five patients who underwent double ray amputations at our center over 12 years: four amputations of the fourth and fifth rays and one amputation of the second and third rays. Mean age at surgery was 34 years (range, 10–45 years), and minimum followup was 64 months (mean, 98 months; range, 64–136 months). All five patients had high-grade soft tissue sarcomas of the hand, two synovial sarcomas, two malignant peripheral nerve sheath tumors, and one undifferentiated sarcoma. No patients had detectable metastases at surgery.
Results
Four of the five patients were completely disease-free at latest followup. One patient was alive with lung metastases detected 32 months after surgery. No patients developed local tumor recurrence. Functional assessment showed a mean Musculoskeletal Tumor Society score of 24 (range, 19–28) and mean grip strength 24% of the contralateral side (range, 17%–35%).
Conclusions
Although double ray amputation results in worse functional outcome than single ray, good key, tip, and tripod pinch can be preserved when the deep motor branch of the ulnar nerve is preserved, and this hand can still assist in bimanual hand activities. Our observations suggest double ray amputation is an acceptable hand-preserving procedure.
Level of Evidence
Level IV, therapeutic study. See Guidelines for Authors for a complete description of levels of evidence.