01.12.2017 | Research | Ausgabe 1/2017 Open Access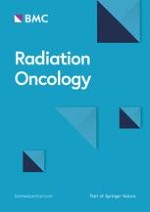 Down-regulation of LncRNA TUG1 enhances radiosensitivity in bladder cancer via suppressing HMGB1 expression
Zeitschrift:
Autoren:

Huijuan Jiang, Xigang Hu, Hongzhi Zhang, Wenbo Li
Abstract
Background
Long non-coding RNAs (lncRNAs) have been reported to regulate the sensitivity of different cancer cells to chemoradiotherapy. Aberrant expression of lncRNA Taurine-upregulated gene 1 (TUG1) has been found to be involved in the development of bladder cancer, however, its function and underlying mechanism in the radioresistance of bladder cancer remains unclear.
Methods
Quantitative real-time PCR (qRT-PCR) was conducted to measure the expression of TUG1 and HMGB1 mRNA in bladder cancer tissues and cell lines. HMGB1 protein levels were tested by western blot assays. Different doses of X-ray were used for radiation treatment of bladder cancer cells. Colony survival and cell viability were detected by clonogenic assay and CCK-8 Kit, respectively. Cell apoptosis was determined by flow cytometry. A xenograft mouse model was constructed to observe the effect of TUG1 on tumor growth in vivo.
Results
The levels of TUG1 and HMGB1 were remarkably increased in bladder cancer tissues and cell lines. Radiation treatment markedly elevated the expression of TUG1 and HMGB1. TUG1 knockdown inhibited cell proliferation, promoted cell apoptosis and decreased colony survival in SW780 and BIU87 cells under radiation. Moreover, TUG1 depletion suppressed the HMGB1 mRNA and protein levels. Furthermore, overexpression of HMGB1 reversed TUG1 knockdown-induced effect in bladder cancer cells. Radiation treatment dramatically reduced the tumor volume and weight in
xenograft model
, and this effect was more obvious when combined with TUG1 silencing.
Conclusion
LncRNA TUG1 knockdown enhances radiosensitivity of bladder cancer by suppressing HMGB1 expression. TUG1 acts as a potential regulator of radioresistance of bladder cancer, and it may represent a promising therapeutic target for bladder cancer patients.