16.11.2016 | Preclinical study | Ausgabe 2/2017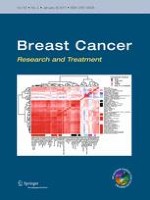 Downregulation of estrogen receptor and modulation of growth of breast cancer cell lines mediated by paracrine stromal cell signals
Zeitschrift:
Autoren:

J. Huang, P. Woods, D. Normolle, J. P. Goff, P. V. Benos, C. J. Stehle, R. A. Steinman
Wichtige Hinweise
Electronic supplementary material
The online version of this article (doi:
10.​1007/​s10549-016-4052-0
) contains supplementary material, which is available to authorized users.
J. Huang and P. Woods contributed equally to this work.
Abstract
Purpose
Breast cancers have a poorer prognosis if estrogen receptor expression was lost during recurrence. It is unclear whether this conversion is cell autonomous or whether it can be promoted by the microenvironment during cancer dormancy. We explored the ability of marrow-derived stromal cell lines to arrest co-cultured breast cancer cells and suppress estrogen receptor alpha (ER) expression during arrest, facilitating the emergence of estrogen-independent breast cancer clones.
Methods
Cancer cell growth, ER protein, microRNA, and mRNA levels were measured in breast cancer cell lines exposed to conditioned medium from marrow stromal lines in the presence and absence of estrogen and of signaling pathway modulators.
Results
We demonstrate that paracrine signaling from the stromal cell line HS5 downregulated ER in T47D and MCF7 breast cancer cells. This occurred at the mRNA level and also through decreased ER protein stability. Additionally, conditioned medium (CM) from HS5 arrested the breast cancer cells in G0/G1 in part through interleukin-1 (IL1) and inhibited cancer cell growth despite the activation of proliferative pathways (Erk and AKT) by the CM. Similar findings were observed for CM from the hFOB 1.19 osteoblastic cell line but not from two other fibroblastic marrow lines, HS27A and KM101. HS5-CM inhibition of MCF7 proliferation could not be restored by exogenous ER, but was restored by the IL1-antagonist IL1RA. In the presence of IL1RA, HS5-CM activation of AKT and Erk enabled the outgrowth of breast cancer cells with suppressed ER that were fulvestrant-resistant and estrogen-independent.
Conclusions
We conclude that marrow-derived stromal cells can destabilize estrogen receptor protein to convert the ER status of growth-arrested ER+ breast cancer cell lines. The balance between stromal pro- and anti-proliferative signals controlled the switch from a dormant phenotype to estrogen-independent cancer cell growth.