01.12.2017 | Research | Ausgabe 1/2017 Open Access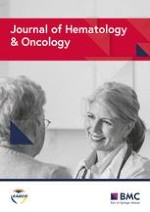 Downregulation of miR-130b~301b cluster is mediated by aberrant promoter methylation and impairs cellular senescence in prostate cancer
Zeitschrift:
Autoren:

João Ramalho-Carvalho, Inês Graça, Antonio Gomez, Jorge Oliveira, Rui Henrique, Manel Esteller, Carmen Jerónimo
Wichtige Hinweise
Electronic supplementary material
The online version of this article (doi:
10.​1186/​s13045-017-0415-1
) contains supplementary material, which is available to authorized users.
Abbreviations
EMT
Epithelial to mesenchymal transition
MET
Mesenchymal to epithelial transition
MNPT
Morphologically normal prostate tissues
MTT
3-(4,5-Dimethylthiazol-2-yl)-2,5-diphenyl-tetrazolium bromide
OIS
Oncogene-induced senescence
SAHF
Senescence-associated heterochromatic foci
SASP
Senescence-associated secretory phenotype
SNPs
Single-nucleotide polymorphisms
TSS
Transcription-start sites
Background
MicroRNAs (miRNAs) are small, non-coding RNAs that act as sequence-specific guides for Argonaute (AGO) proteins, which mediate post-transcriptional silencing of target mRNA [
1
]. miRNAs are transcribed from individual genes containing their own promoters or are originated intragenically from spliced segments of other genes [
2
]. They contain upstream regulatory elements and promoter regions, indicating that miRNAs might endure CpG promoter methylation via DNA methyltransferase (DMNT), histone modifications, as well as other regulatory alterations [
1
,
3
]. Importantly, whereas miRNA genes transcription-start sites (TSS) are occasionally 5–10 kb away from the pre-miRNA sequence [
4
], promoter regions may be up to 50 kb apart, which may preclude the elucidation of transcriptional regulation of particular miRNAs [
1
]. Functional miRNAs result from sequential processing of pri-miRNAs by RNase III family enzymes DROSHA (nucleus) and DICER (cytoplasm). Unlike their protein-coding counterparts, however, miRNAs function as guides for identifying target mRNAs for repression [
5
].
MiRNAs are involved in development, homeostasis, cell cycle, apoptosis and in diverse pathological condition in nearly all vertebrate tissues [
6
]. Importantly, aberrant miRNA expression levels have been associated with promotion or arrest of tumorigenesis, through its ability to control the expression of a myriad of protein-coding and non-coding genes [
7
]. Concordantly, deregulation of miRNA expression has been reported in several malignancies, including prostate cancer (PCa) [
3
]. PCa is currently the most common non-cutaneous malignancy in developed countries and the second leading cause of death from cancer in men in the USA and in Europe, accounting for one in nine of all newly diagnosed cancers in men [
8
]. Nonetheless, altered miRNA expression patterns in PCa have been significantly understudied compared to other cancers, despite evidence suggesting a global downregulation of miRNA expression in both tumorigenesis and treatment resistance [
9
,
10
].
Here, we examined how epigenetic alterations might contribute to miRNAs deregulation in PCa, focusing on the role of miR-130b~301b cluster. We found that miR-130b~301b cluster displays tumour-suppressive functions in vitro, influencing cell cycle, cell viability, apoptosis and invasion. Interestingly, an unprecedented effect of miR-130b~301b cluster on cellular senescence, which prevents cancer cell proliferation, was disclosed, suggesting that impairment of cellular senescence might underlie the deleterious effects of miR-130b~301b cluster downregulation in prostate carcinogenesis.
Methods
Patients and sample collection
Primary tumour tissues from 111 patients harbouring clinically localized PCa were prospectively collected, after diagnosis and primary treatment with radical prostatectomy at Portuguese Oncology Institute of Porto, Porto, Portugal (Additional file
1
: Table S1). A set of 14 morphologically normal prostate tissues (MNPT) was procured from prostatic peripheral zone of bladder cancer patients submitted to cystoprostatectomy and which did not harbour concomitant PCa. All tissue specimens were promptly frozen after surgery. Upon histological confirmation of tumour or normal prostate tissue, fresh-frozen tissue fragments were trimmed to enhance yield of target cells (>70%). Histological slides from formalin-fixed paraffin-embedded tissue fragments were also routinely obtained from the surgical specimens and assessed for Gleason score and TNM stage. Relevant clinical data was collected from clinical charts and informed consent was obtained from all participants, according to institutional regulations. This study was approved by the institutional review board (Comissão de Ética para a Saúde) of Portuguese Oncology Institute of Porto, Portugal (CES-IPOPFG-EPE 205/2013).
Nuclei acid extractions, bisulfite conversion and cDNA synthesis
DNA from fresh frozen tissue samples and cell lines was extracted using phenol:chloroform (Sigma). RNA was obtained using TRIzol (Invitrogen, Carlsbad, CA, USA) according to manufacturer's instructions.
Bisulfite conversion of 1000 ng of genomic DNA was accomplished using EZ DNA Methylation Kit (Zymo Research), following manufacturer's instructions.
Specific-miRNA cDNA was obtained using TaqMan MicroRNA Reverse Transcription Kit from Applied Biosystems (Foster City, CA, USA). Total cDNA synthesis was performed using high-capacity cDNA Reverse Transcription Kit (Applied Biosystems).
Infinium HumanMethylation450 BeadChip
All DNA samples were assessed for integrity, quantity and purity by electrophoresis in a 1.3% agarose gel, picogreen quantification and nanodrop measurements. All samples were randomly distributed into 96-well plates. Bisulfite-converted DNA (200 ng) were used for hybridization on the HumanMethylation450 BeadChip (Illumina), comprising 25 PCa and 5 MNPT.
HumanMethylation450 BeadChip data were processed using Bioconductor minfi package [
11
]. The "Ilumina" procedure, which mimics the method of GenomeStudio (Illumina), was performed comprising background correction and normalization taking the first array of the plate as reference. Probes with one or more single-nucleotide polymorphisms (SNPs) with a minor allele frequency (MAF) >1% (1000 Genomes) in the first 10 bp of the interrogated CpG were removed. The methylation level (
β
) for each of the 485,577 CpG sites was calculated as the ratio of methylated signal divided by the sum of methylated and unmethylated signals, multiplied by 100. After normalization step, probes related to X and Y chromosomes were removed. All analyses were performed in human genome version 19 (hg19), and data was deposited in GEO repository under accession number GSE52955.
Pyrosequencing
Specific sets of primers for PCR amplification and sequencing were designed using a specific software pack (PyroMark assay design version 2.0.01.15). Primer sequences were designed to hybridize, whenever possible, with CpG-free sites, ensuring methylation-independent amplification. PCR was performed under standard conditions with biotinylated primers, and the PyroMark Vacuum Prep Tool (Biotage, Uppsala, Sweden) was used to prepare single-stranded PCR products according to manufacturer's instructions. Pyrosequencing reactions and methylation quantification were performed in a PyroMark Q96 System version 2.0.6 (QIAGEN) using appropriate reagents and recommended protocols.
RT-qPCR
MiRNA transcript levels were assessed using TaqMan MicroRNA Assays specific for each miRNA (miR-130b, assay ID: 000456; miR-301b, assay ID: 002392) and normalized with RNU48 (assay ID: 001006; Applied Biosystems).
Real-time quantitative PCR (RT-qPCR) analysis was performed using gene-specific primers (Additional file
1
: Table S2) and normalized to the expression of
GUSB
housekeeping gene.
PCa cell lines
LNCaP cells were grown in RPMI 1640, DU145 cells were maintained in MEM and PC-3 cells were grown in 50% RPMI-50% F-12 medium (GIBCO, Invitrogen, Carlsbad, CA, USA). All basal culture media were supplemented with 10% fetal bovine serum and 1% penicillin/streptomycin (GIBCO, Invitrogen, Carlsbad, CA, USA). Cells were maintained in an incubator at 37 °C with 5% CO2. All PCa cell lines were routinely tested for
Mycoplasma
spp. contamination (PCR Mycoplasma Detection Set, Clontech Laboratories).
To reverse DNA methylation effect in the cell lines, we used 1 μM of the DNA methyltransferases inhibitor 5-aza-2-deoxycytidine (5-Aza-CdR; Sigma-Aldrich, Schnelldorf, Germany) alone or in combination 0.5 μM histone deacetylase inhibitor trichostatin A (TSA; Sigma-Aldrich, Schnelldorf, Germany). After 72 h, cells were harvested and RNA extracted.
Pre-miRNA and anti-miRNA transfections
To inhibit miR-130b and miR-301b, single-stranded nucleic acids designed to specifically bind and inhibit endogenous miRNA (miR-130b Inhibitor, product ID: AM10777; miR-301b Inhibitor, product ID: AM12929, Ambion) were used. Anti-miR-130b and Anti-miR-301b were transfected as follows: in LNCaP, 25 and 50 nM, respectively; DU145, each at 50 nM; and PC3, 50 and 70 nM, respectively.
MiR-130b and miR-301b overexpression were accomplished through commercially available synthetic precursor miRNAs (pre-miR-130b, product ID: PM10777; pre-miR-301b, product ID: PM12929, Ambion), each transfected at 20 nM. Transfections were performed using Oligofectamine (Invitrogen), per manufacturer instructions.
Viability assay
Cell viability was evaluated by MTT assay. Briefly, PCa cells were seeded onto 96-well flat bottomed culture plates, allowed to adhere overnight and transfected 24 h later (number of cells plated before transfection: LNCaP: 10000 cells/well; DU145: 4000 cells/well; PC3: 3000 cells/well in 96-well plates). At each time point, 0.5 mg/ml of MTT reagent [3-(4,5-dimethylthiazol-2-yl)-2,5-diphenyl-tetrazolium bromide] was added to each well, and the plates were incubated in the dark for 1 h at 37 °C. Formazan crystals were then dissolved in DMSO and absorbance was read at 540 nm in a microplate reader (FLUOstar Omega, BMG Labtech, Offenburg, Germany), subtracting the background, at 630 nm. Three replicates for each condition were performed, and at least three independent experiments were carried out. Measurements were performed 24, 48 and 72 h post-miRNA manipulation.
Apoptosis evaluation
Evaluation of apoptosis was performed using APOPercentage apoptosis assay kit (Biocolor Ltd., Belfast, Northern Ireland) according to the manufacturer's instructions. PCa cells were seeded onto 24-well plates (LNCaP: 50,000 cells/well, DU145 and PC3: 30,000 cells/well) and 24 h later were transfected. Apoptotic cells were assessed at the end of day 3 (72 h after transfection), in a FLUOstar Omega microplate reader at 550 nm and the background subtracted at 620 nm. The results were normalized to number of viable cell determined in MTT assay according to the following formula: OD of apoptosis assay at 72 h/OD of MTT at 72 h.
Cell cycle analysis
Cell cycle distribution of PC3 cells was determined by flow cytometry. Briefly, 72 h after transfection (150,000 cells/well at day 0, in 6-well plates), 5 × 10 5 harvested cells were fixed overnight at 4 °C with 70% cold ethanol. After washing with cold PBS, cells were re-suspended in Propidium Iodide Solution (Cytognos S.L, Salamanca, Spain) and incubated for 30 min at room temperature. All cells were then measured on a Cytomics FC500 flow cytometer (Beckman Coulter, Fullerton, CA, USA) and analysed using Modfit LT (Verity Software House, Inc., Topshan, ME, USA).
Single cell gel electrophoresis (comet assay)
Seventy-two hours after transfection (150,000 cells/well at Day 0, in 6-well plates), 50,000 cells were harvested by trypsinization, washed in PBS and re-suspended in 75 μl of low-melting point agarose (Invitrogen, Carlsbad, CA, USA). This suspension was then applied on top of the base layer consisting of normal-melting point agarose in a slide, after which it polymerized for 10 min at 4 °C. The slides were then immersed in lysis solution (2.5 M NaCl, 100 mM Na 2EDTA, 10 mM Tris Base and 1% Triton X-100) at 4 °C during 2 h in the dark. To allow DNA to unwind, slides were posteriorly incubated in an alkaline electrophoresis buffer (300 mM NaOH, 1 mM Na2EDTA, pH = 13) for 40 min at 4 °C. Electrophoresis was accomplished on a horizontal electrophoresis platform at 4 °C for 20 min at 15 V. Subsequently, they were incubated in a neutralization buffer (Tris–HCl; pH = 7.5) for 10 min. After fixation with 100% ethanol, slides were stained with Sybr Green® (Life Technologies, Foster City, CA, USA) and DNA damage was evaluated under a fluorescent microscope. At least three independent experiments were performed for each condition. The DNA damaging effect in terms of DNA fragmentation was determined by measuring four parameters, that included tail moment, tail length, percentage of DNA in tail of the comet, and 50 DNA-damaged cells were counted at least, for each condition.
Cell invasion assay
Cell invasion was determined using BD BioCoat Matrigel Invasion Chamber (BD Biosciences, Franklin Lakes, NJ, USA). Both cell lines were transfected with miRNA molecules for 72 h. Then, 5 × 10 4 cells/mL of PC3 cells were added to the upper chamber. After 44 h (LNCaP) or 20 h (PC3), the membrane bottom containing invading cells was fixed in methanol, washed in PBS and stained with DAPI (Vector Laboratories, Burlingame, CA). All invading cells were counted under a fluorescence microscope. Three independent experiments were performed for each condition.
Transcriptomic evaluation of altered genes following cluster miR-130b~301b manipulation
Cells (LNCaP: 400,000 cells/well, DU145: 200,000 cells/well and PC3: 150,000 cells/well) were plated in 6-well, in the day before transfection. Cells were collected 72 h post-transfection and RNA was extracted and used as template for cDNA synthesis. RT-qPCR was performed as previously described.
Western blot
One hundred fifty thousand cells per well were plated before transfection; 72 h post-transfection, cell lysates were separated on 4–20% Mini-PROTEAN TGXPrecast Gel at 120 V and transferred onto PVDF membrane using semi-dry transfer. The membrane was incubated for 1 h in blocking buffer (5% non-fat dry milk) and incubated 2 h, at room temperature, with primary antibodies (Additional file
1
: Table S3). Blots were developed using Immun-Star WesternC Chemiluminescent kit (Bio-Rad, Hercules, CA, USA).
Morphometric analysis
Cell morphology was examined 72 h after transfection using a digital camera connected with Olympus phase-contrast microscope. The cell area and sphericity were determined with the Olympus cellSens Dimension software (Olympus Corporation, Shinjuku, Japan) using the freehand polygon tool.
TCGA data in prostate cancer patients
Data on mRNA expression and clinical information (when available) from PCa and matched normal patient samples deposited in The Cancer Genome Atlas (TCGA) was retrieved. mRNA expression data from samples hybridized at University of North Carolina, Lineberger Comprehensive Cancer Center, using Illumina HiSeq 2000 mRNA Sequencing version 2, were downloaded from TCGA data matrix (
https://​gdc-portal.​nci.​nih.​gov/​projects/​TCGA-PRAD
), including 497 PCa and 52 matched normal [
12
]. To prevent duplicates, when there was more than one portion per patient, median values were used. The provided value was pre-processed and normalized according to 'level 3' specifications of TCGA (see
https://​gdc-portal.​nci.​nih.​gov/​
for details). Clinical data of each patient was provided by Biospecimen Core Resources (BCRs). Data is available for download through TCGA data matrix (
https://​gdc.​cancer.​gov/​gdc-tcga-data-access-matrix-users
).
Statistical analysis
For group comparisons analysis, non-parametric tests (Kruskal-Wallis and Mann-Whitney
U
test) were used. For in vitro assays, comparisons between two groups were performed using the Mann-Whitney
U
test. Data are shown as mean ± s.d., unless otherwise specified. Student's
t
tests were used for invasion assays. All statistical tests were two-sided. Statistical analysis was carried out using Graph Pad Prism version 5. Significance level was set at
p
 < 0.05.
Results
Discussion
Conclusions
In conclusion, we found novel miRNAs deregulated through aberrant promoter methylation in PCa. In particular, the miR-130b~301b cluster displays a tumour-suppressive profile and its downregulation might fuel malignant transformation and tumour progression through facilitation of EMT and bypass of cellular senescence.
Acknowledgements
The authors would like to acknowledge the collaboration of the Laboratory of Flow Cytometry at the Department of Haematology of the Portuguese Oncology Institute of Porto, particularly to Dr. Carlos Palmeira.
Funding
This study was funded by research grants from Research Center of Portuguese Oncology Institute of Porto (36-CI-IPOP) and by Federal funds through Programa Operacional Temático Factores de Competitividade (COMPETE) with co-participation from the European Community Fund (FEDER) and by national funds through Fundação para a Ciência e Tecnologia (FCT) under the project EXPL/BIM-ONC/0556/2012. JR-C is supported by FCT-Fundação para a Ciência e a Tecnologia PhD fellowship (SFRH/BD/71293/2010) and IG is a research fellow from the strategic funding of FCT (PCT: PEst-UID/DTP/00776/2013 and COMPETE: POCI-01-0145-FEDER-006868).
Availability of data and materials
The datasets generated and/or analysed during the current study are available in the GEO repository under accession number GSE52955.
Authors' contributions
JR-C, IG, RH, ME and CJ conceived and designed the experiments. JR-C, IG, RH and CJ performed the data analysis and interpretation. JR-C and IG performed the experiments. AG performed the bioinformatics analysis. JO, RH and CJ contributed materials. ME and CJ contributed reagents. JR-C, RH and CJ were involved in the manuscript preparation. CJ contributed in the coordination of the study. All authors read and approved the final manuscript.
Competing interests
The authors declare that they have no competing interests.
Consent for publication
Not applicable.
Ethics approval and consent to participate
Relevant clinical data was collected from clinical charts and informed consent was obtained from all participants, according to institutional regulations. This study was approved by the institutional review board (Comissão de Ética para a Saúde) of Portuguese Oncology Institute of Porto, Portugal (CES-IPOPFG-EPE 205/2013).
Open Access
This article is distributed under the terms of the Creative Commons Attribution 4.0 International License (
http://​creativecommons.​org/​licenses/​by/​4.​0/​
), which permits unrestricted use, distribution, and reproduction in any medium, provided you give appropriate credit to the original author(s) and the source, provide a link to the Creative Commons license, and indicate if changes were made. The Creative Commons Public Domain Dedication waiver (
http://​creativecommons.​org/​publicdomain/​zero/​1.​0/​
) applies to the data made available in this article, unless otherwise stated.