01.12.2018 | Research article | Ausgabe 1/2018 Open Access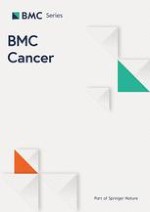 Doxorubicin resistance in breast cancer cells is mediated by extracellular matrix proteins
Zeitschrift:
Autoren:

Carrie J. Lovitt, Todd B. Shelper, Vicky M. Avery
Abstract
Background
Cancer cell resistance to therapeutics can result from acquired or de novo-mediated factors. Here, we have utilised advanced breast cancer cell culture models to elucidate de novo doxorubicin resistance mechanisms.
Methods
The response of breast cancer cell lines (MCF-7 and MDA-MB-231) to doxorubicin was examined in an in vitro three-dimensional (3D) cell culture model. Cells were cultured with Matrigel™ enabling cellular arrangements into a 3D architecture in conjunction with cell-to-extracellular matrix (ECM) contact.
Results
Breast cancer cells cultured in a 3D ECM-based model demonstrated altered sensitivity to doxorubicin, when compared to those grown in corresponding two-dimensional (2D) monolayer culture conditions. Investigations into the factors triggering the observed doxorubicin resistance revealed that cell-to-ECM interactions played a pivotal role. This finding correlated with the up-regulation of pro-survival proteins in 3D ECM-containing cell culture conditions following exposure to doxorubicin. Inhibition of integrin signalling in combination with doxorubicin significantly reduced breast cancer cell viability. Furthermore, breast cancer cells grown in a 3D ECM-based model demonstrated a significantly reduced proliferation rate in comparison to cells cultured in 2D conditions.
Conclusion
Collectively, these novel findings reveal resistance mechanisms which may contribute to reduced doxorubicin sensitivity.