12.09.2018 | Wound Care and Healing (H Lev-Tov, Section Editor) | Ausgabe 4/2018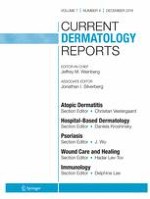 Dress for Success: a Review of Dressings and Wound Care in Hidradenitis Suppurativa
Zeitschrift:
Autoren:

Taylor L. Braunberger, Sakeena Fatima, Gautham Vellaichamy, Amanda F. Nahhas, Angela Parks-Miller, Iltefat H. Hamzavi
Wichtige Hinweise
This article is part of the Topical Collection on
Wound Care and Healing
Abstract
Purpose of Review
Hidradenitis suppurativa is characterized by lesions and draining sinus tracts in intimate locations. Although often overlooked, the selection of an effective, comfortable dressing can dramatically improve patients' lives. We aimed to review dressings based on management of post-surgical and non-surgical wound dressings. We reviewed the characteristics and types of dressings used in patients with hidradenitis suppurativa and addressed recommendations for dressing post-surgical and non-surgical wounds.
Recent Findings
Available studies on dressings are few in number with small sample sizes. There were no studies comparing the efficacy of dressings in hidradenitis suppurativa patients. The types of dressings include superabsorbent/absorbent dressings, foam dressings, hydrofiber dressings, alginate dressings, silicone adherent dressings, non-adherent dressings, hydrocolloid dressings, silver-impregnated dressings, iodine-impregnated dressings, and honey-impregnated dressings, and platelet-rich plasma gel and hyaluronic acid scaffold dressings. Providers should consider the "TIME" acronym when assessing post-surgical and non-surgical wounds to select the appropriate dressing.
Summary
As an important component of wound healing, large, randomized controlled trials that compare dressing options for the management of wounds in hidradenitis suppurativa patients are needed.