09.01.2020 | Ausgabe 1/2020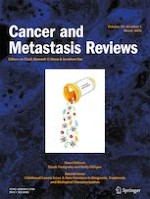 Drug repurposing towards targeting cancer stem cells in pediatric brain tumors
Zeitschrift:
Autoren:

Hisham F. Bahmad, Mohamad K. Elajami, Talal El Zarif, Jolie Bou-Gharios, Tamara Abou-Antoun, Wassim Abou-Kheir
Wichtige Hinweise
Hisham F. Bahmad and Mohamad K. Elajami contributed equally to this work.
Publisher's note
Springer Nature remains neutral with regard to jurisdictional claims in published maps and institutional affiliations.
Abstract
In the pediatric population, brain tumors represent the most commonly diagnosed solid neoplasms and the leading cause of cancer-related deaths globally. They include low-grade gliomas (LGGs), medulloblastomas (MBs), and other embryonal, ependymal, and neuroectodermal tumors. The mainstay of treatment for most brain tumors includes surgical intervention, radiation therapy, and chemotherapy. However, resistance to conventional therapy is widespread, which contributes to the high mortality rates reported and lack of improvement in patient survival despite advancement in therapeutic research. This has been attributed to the presence of a subpopulation of cells, known as cancer stem cells (CSCs), which reside within the tumor bulk and maintain self-renewal and recurrence potential of the tumor. An emerging promising approach that enables identifying novel therapeutic strategies to target CSCs and overcome therapy resistance is drug repurposing or repositioning. This is based on using previously approved drugs with known pharmacokinetic and pharmacodynamic characteristics for indications other than their traditional ones, like cancer. In this review, we provide a synopsis of the drug repurposing methodologies that have been used in pediatric brain tumors, and we argue how this selective compilation of approaches, with a focus on CSC targeting, could elevate drug repurposing to the next level.