01.06.2015 | Ausgabe 6/2015 Open Access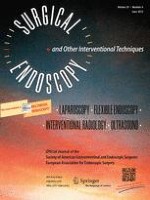 Dual-port distal gastrectomy for the early gastric cancer
Zeitschrift:
Autoren:

Hiroyuki Kashiwagi, Kenta Kumagai, Eiji Monma, Mutsumi Nozue
Wichtige Hinweise
Presented at the 21st EAES Congress, June 19–22, 2013, Vienna, Austria.
Abstract
Background
Although recent trends in laparoscopic procedures have been toward minimizing the number of incisions, four or five ports are normally required to complete laparoscopic gastrectomy because of the complexity of this procedure. Multi-channel ports, such as the SILS port (Covidien, JAPAN), are now available and are crucial for performing single-incision laparoscopic surgery (SILS) or reduced port surgery (RPS). We carried out reduced port distal gastrectomy (RPDG) using a dual-port method with a SILS port.
Methods
Ten patients who were diagnosed as early stage gastric cancer were offered the RPDG. Mean age and body mass index (BMI) were 68.1 and 21.4, respectively. No distant metastasis or regional lymph node swelling was seen in any case. A 5-mm flexible scope (Olympus, JAPAN) and SILS port were used and a nylon ligature with a straight needle, instead of a surgical instrument, was available to raise the gastric wall.
Results
The average operative time was 266.9 ± 38.3 min and blood loss was 37.8 ± 56.8 ml. Patients recovered well and experienced no complications after surgery. All patients could tolerate soft meals on the first day after surgery and the average hospital stay was 8.1 days. Past conventional LAG cases were evaluated to compare the short-term outcome and no difference was seen in the mean operative time or operative blood loss. The length of hospital stay after surgery was shorter for the RPDG group than the conventional operation group (
p
< 0.0001). Interestingly, the trend of serum CRP elevation after surgery was lower in the RPDG group than the conventional LAG group (
p
= 0.053).
Conclusions
Although the benefits of RPS have not been established, this type of surgery may be expected to have some advantages. Cosmetic benefits and shorter hospital stays are clear advantages. Less invasiveness can be expected according to the trend of serum CRP elevation after RPDG.