01.12.2017 | Letter to the Editor | Ausgabe 1/2017 Open Access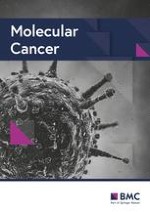 Dual role for p16 in the metastasis process of HPV positive head and neck cancers
Zeitschrift:
Autoren:

Rüveyda Dok, Mary Glorieux, Karolina Holacka, Marieke Bamps, Sandra Nuyts
Wichtige Hinweise
Electronic supplementary material
The online version of this article (doi:
10.​1186/​s12943-017-0678-8
) contains supplementary material, which is available to authorized users.
Abbreviations
HNSCC
Head and neck squamous cell carcinoma
LYVE-1
Homologue lymphatic vessel hyaluronan receptor
OPC
Oropharyngeal squamous cell carcinoma patients
VEGFA
Vascular endothelial growth factor A
Background
Head and neck squamous cell carcinoma (HNSCC) is the sixth most common malignancy worldwide with 600,000 cases every year and is associated with high morbidity and mortality [
1
]. HNSCC patients are divided in two groups according to their etiology, namely high-risk human papilloma virus related (HPV) and the alcohol and tobacco related HNSCC [
1
–
5
].
Although recent studies show favorable local and survival outcome of HPV related HNSCC patients, the distant metastasis (DM) rate is similar for HPV positive and negative HNSCC patients [
5
,
6
]. The frequency of distant recurrence in HNSCC is low but with the rarity of locoregional failure, the importance of DM on survival is now more prominent and the leading cause of death in HPV positive patients [
6
–
8
]. Even more striking is the unusual dissemination pattern to distal organs like liver and brain in HPV positive HNSCC, compared to HPV negative HNSCC where lung and bone are the most frequent locations for metastasis [
9
]. Moreover, it is reported that DM in HPV positive HNSCC can still be detected up to 5 years of follow-up [
5
,
6
]. In contrast, DM rates in HPV negative HNSCC are stable after 2 years [
5
,
6
,
9
]. HPV positive HNSCC are characterized by low tumor (T) and high regional node (N) stages, intrinsically indicating high local metastatic potential [
5
,
7
,
10
]. The significance of T and N stages along with tobacco exposure as factors influencing the risk of recurrence and death in patients with HPV positive HNSCC have been explored in several studies [
5
,
11
–
15
]. However, the biological assessment behind the unusual and somewhat paradoxical dissemination pattern remains largely unknown. In this paper, we assessed the biological mechanisms behind the clinical presentation of HPV related HNSCC by combining data from in vitro and in vivo HNSCC xenograft models with data of 241 HNSCC patients.
Main text
Conclusion
Taken together, we provide experimental evidence for a dual role of p16 in the metastasis process of HNSCC. We show that p16 on the one hand regulates vascular invasiveness and growth of the tumor cells by inhibiting angiogenesis; on the other hand, it stimulates nodal spread by enhancing lymphangiogenesis. These findings provide us a better understanding of the molecular principles underlying the dissemination patterns and clinical presentation of HNSCC. Importantly, it also opens different treatment opportunities for metastasis in HNSCC by the inhibition of vascularization (e.g. anti-angiogenic drugs) in HPV negative cancers and by the inhibition of lymphangiogenesis (e.g. alpha4 antagonist) in HPV positive cancers. However, further preclinical and clinical studies are necessary to confirm these results and to investigate the utility and specificity of these treatment approaches.
Acknowledgements
We thank Dr. Esther Hauben from the Department of Pathology (UZ Leuven) for her input to the study.
Availability of data and materials
All data generated or analyzed during this study are included in this published article.
Authors' contributions
RD, MG were involved in the acquisition of data and analysis and interpretation of data. MB and KH were involved in the acquisition of data. RD and SN were involved in study concept. SN provided material support, study concept, design, and drafting of the manuscript. All authors were involved in writing the paper and had final approval of the submitted and published versions.
Competing interests
The authors declare that they have no competing interest.
Funding
This study was supported by Fonds Wetenschappelijk Onderzoek and by Koning Boudewijnstichting Fonds Anhaive, Belgium.
Consent for publication
Not applicable.
Ethics approval and consent to participate
The human tumor samples were acquired according to protocols approved by the Ethical board of the University Hospitals Leuven (Leuven, Belgium) and implied consent of all the patients were obtained (see also Additional file
3
).
Publisher's Note
Springer Nature remains neutral with regard to jurisdictional claims in published maps and institutional affiliations.
Open Access
This article is distributed under the terms of the Creative Commons Attribution 4.0 International License (
http://​creativecommons.​org/​licenses/​by/​4.​0/​
), which permits unrestricted use, distribution, and reproduction in any medium, provided you give appropriate credit to the original author(s) and the source, provide a link to the Creative Commons license, and indicate if changes were made. The Creative Commons Public Domain Dedication waiver (
http://​creativecommons.​org/​publicdomain/​zero/​1.​0/​
) applies to the data made available in this article, unless otherwise stated.