20.11.2017 | Original Article | Ausgabe 3/2018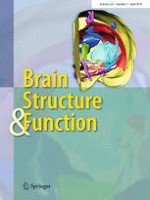 Dual roles of the hippocampus and intraparietal sulcus in network integration and segregation support scene recognition
Zeitschrift:
Autoren:

Xin Hao, Xu Wang, Yiying Song, Xiangzhen Kong, Jia Liu
Wichtige Hinweise
Electronic supplementary material
Abstract
Effectively recognizing surroundings is a critical ability in human navigation. Previous neuroimaging studies have depicted distributed brain regions underpinning spatial navigation, but little is known about how these regions are formed into the navigation network (NN) supporting scene recognition. In this study, we addressed this issue by using a voxel-based global functional connectivity method to characterize the integration (i.e., within-network connectivity, WNC) of the NN and its segregation (i.e., between-network connectivity, BNC) from non-NN networks. We found that the majority of the voxels in the NN showed a stronger WNC than BNC, indicating the encapsulation of the NN. Importantly, individuals with stronger WNC and weaker BNC in the left hippocampus (Hipp) and intraparietal sulcus (IPS) performed better in scene recognition, suggesting that the left Hipp and IPS were involved in scene recognition by both integrating regions in the NN and separating the NN from non-NN networks. Further analyses showed that the integration of these two regions in the NN serves different functions, that is, while the WNC of the left Hipp was only related to scene recognition, the WNC of the left IPS was also related to the general executive control function of attention. In short, our study demonstrated the dual roles of the Hipp and IPS in integration and segregation of the NN to support scene recognition, suggesting that scene recognition involves not only regions specialized in spatial navigation, but also those with general functions.