01.01.2012 | Original Article | Ausgabe 1/2012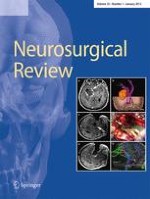 Dual-room 1.5-T intraoperative magnetic resonance imaging suite with a movable magnet: implementation and preliminary experience
Zeitschrift:
Autoren:

Xiaolei Chen, Bai-nan Xu, Xianghui Meng, Jun Zhang, Xingguang Yu, Dingbiao Zhou
Wichtige Hinweise
Electronic supplementary material
The online version of this article (doi:
10.​1007/​s10143-011-0336-3
) contains supplementary material, which is available to authorized users.
Comments
Rudolf Fahlbusch, Hannover, Germany
The authors describe their experience with IOP 1.5-T MRI gained within two (!) months in 45 patients. After the implementation of functional MRI and 1.5-T MRI in Erlangen in 2002, the authors have adopted the Erlangen concept and protocol. However, by using a movable rotating table, they changed the magnet concept from a patient-to-magnet system to a magnet-to-patient system working with a movable magnet (the ceiling-mounted IMRIS system). This allows an easier management of a hybrid room for therapeutic as well as for diagnostic (outpatient) procedures. On the other hand, the IMRIS system has the "disadvantage" of a longer transportation time and is still lacking an integrated automatic registration within the head fixation and coil. In more than half of the authors' patients, mainly in those with gliomas and pituitary adenomas, the IOP strategy was modified: In 60% of pituitary adenomas, well-resectable tumors could be removed completely with the aid of IOP MRI. In well-resectable gliomas, they improved from 30% to 75%, although the first examination showed that the degree of resection was unsatisfactory in 70%. All our data that are based on our long-lasting learning curve with surgical and surgical + iop MRI experiences, including our present experience at the International Neuroscience Institute Hannover, yield better results: in 45% unsatisfactory resection rate in gliomas and 35% in pituitary adenomas. The authors could confirm this trend during their oral presentation given in January 2011 at the Intraoperative Imaging Congress in Zürich. They have to be congratulated on their impressively large series of meanwhile over 450 patients. These experiences demonstrate how important iop MRI has become for ALL NEUROSURGEONS working with brain tumors.
Christopher Nimsky, Marburg, Germany
Intraoperative magnetic resonance (MR) imaging, pioneered with low-field MR systems over 15 years ago, has gained increasing acceptance. Still, however, there is no definite optimal solution how the best intraoperative surgical workflow can be combined with the best economical use of such a system. This paper reports the preliminary experience of a dual-room high-field MR concept using a ceiling-mounted movable magnet, allowing intraoperative use parallel to diagnostic imaging. Due to economical constraints, such dual-use systems have been preferred by several sites in the last years, either as in this paper or in a solution of an OR adjacent to the diagnostic room and moving the patient during surgery (e.g., Miyabi concept). When choosing an intraoperative MRI system, two other major decisions have to be made: the decision for the field strength—either low-field magnets (nowadays mostly 0.15-T systems) or high-field magnets ranging from 1.5 to 3 T, where the image quality and the full spectrum of MRI diagnostic tools favor the high-field systems. On the other hand, until now, there is no clear decision whether 3-T systems have a distinctive benefit over the 1.5-T systems for the intraoperative situation, which would be expected seeing their increasing use in the diagnostic situation. Another important point in choosing the right system is the efficient integration of the surgical workflow with close navigation integration so that the intraoperative images can be used intraoperatively without much complicated efforts and so that efficient and precise intraoperative updates of the navigational data are possible. Despite all progress, still there is not an ideal solution; however, the increasing number of users of such systems will hopefully give the industry the input to develop more efficient solutions in the future.
Jizong Zhao, Beijing, China
Chen et al. provided a comprehensive description of their early experience with a dual-room 1.5-T intraoperative magnetic resonance imaging (iMRI) unit with a movable magnet. They addressed important considerations including room layout, safety, ergonomics, surgical instrumentation, anesthesia modifications, and imaging protocol design. In doing so, they provided general insight into the multitude of factors that must be weighed for institutions considering new iMRI installations. With this suite, surgeons can operate without any constraints in terms of equipment (although an MRI-compatible head holder is needed). To achieve intraoperative imaging, a movable magnet is transferred via ceiling-mounted tracks to the operating room without moving the patient. Most of the time, the scanner is used for diagnostic imaging and thereby becomes a revenue source for the hospital.
The authors also summarized their initial experience with iMRI for a variety of intracranial pathological lesions including gliomas, pituitary adenomas, and cerebral vascular diseases. Although the cohort of patients is small and their experience is preliminary, they reported that iMRI led to intraoperative modification of surgical strategy (further resection) in 22 patients (48.9%), which is consistent with previously reported literatures. With their illustrative cases, the authors also demonstrated that 1.5-T iMRI enhances the spectrum of intraoperative imaging capabilities, extending to areas such as diffusion tensor imaging, fiber tracking, real-time navigation, and vascular imaging. Besides the numbers of surgical procedures, they reported 430 diagnostic scans in the diagnostic room of the suite, which means, with the dual-room design, that sharing use of the magnet and smooth surgical workflow can be achieved. It is very important because the most useful iMRI system should be the one that gets the most use. The higher fixed costs of the magnet and installation may increase the motivation for shared usage, which maximizes the opportunity to increase revenue from non-operative scanning.
Current data demonstrate that this system generates reliable information about the extent of tumor resection in high-grade as well as in low-grade gliomas. Still, to promote iMRI and to eventually establish it as a standard of care, the promise of the technology must first be proven. Chen et al. should be encouraged to investigate the long-term outcome of a larger cohort of patients operated with this system. It will also be very interesting to analyze the learning curve and more detailed cost-effective ratio of the system in the long run.
Abstract
We hereby report our initial clinical experience of a dual-room intraoperative magnetic resonance imaging (iMRI) suite with a movable 1.5-T magnet for both neurosurgical and independent diagnostic uses. The findings from the first 45 patients who underwent scheduled neurosurgical procedures with iMRI in this suite (mean age, 41.3 ± 12.0 years; intracranial tumors, 39 patients; cerebral vascular lesions, 5 patients; epilepsy surgery, 1 patient) were reported. The extent of resection depicted at intraoperative imaging, the surgical consequences of iMRI, and the clinical practicability of the suite were analyzed. Fourteen resections with a trans-sphenoidal/transoral approach and 31 craniotomies were performed. Eighty-two iMRI examinations were performed in the operating room, while during the same period of time, 430 diagnostic scans were finished in the diagnostic room. In 22 (48.9%) of 45 patients, iMRI revealed accessible residual tumors leading to further resection. No iMRI-related adverse event occurred. Complete lesion removal was achieved in 36 (80%) of all 45 cases. It is concluded that the dual-room 1.5-T iMRI suite can be successfully integrated into standard neurosurgical workflow. The layout of the dual-room suite can enable the maximum use of the system and save costs by sharing use of the 1.5-T magnet between neurosurgical and diagnostic use. Intraoperative MR imaging may provide valuable information that allows intraoperative modification of the surgical strategy.