01.12.2015 | Research article | Ausgabe 1/2015 Open Access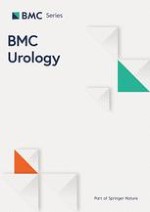 Dual-specificity tyrosine phosphorylation-regulated kinase 2 (DYRK2) as a novel marker in T1 high-grade and T2 bladder cancer patients receiving neoadjuvant chemotherapy
DYRK2 is associated with survival in bladder cancer
Zeitschrift:
Autoren:

Shunichiro Nomura, Yasutomo Suzuki, Ryo Takahashi, Mika Terasaki, Ryoji Kimata, Yasuhiro Terasaki, Tsutomu Hamasaki, Go Kimura, Akira Shimizu, Yukihiro Kondo
Wichtige Hinweise
Competing interests
The authors declare that they have no competing interests.
Authors' contributions
SN evaluated immunohistochemical staining, performed the statistical analyses, and drafted the manuscript. YS assisted with the statistical analysis and helped draft the manuscript. RT collected clinical data and revised the manuscript. MT participated in the data interpretation and revision of the manuscript. RK performed data acquisition. YT revised the manuscript. TH revised the manuscript. GK conceived the study, evaluated the immunohistochemistry, and helped draft the manuscript. AS performed data acquisition. YK participated in the study conception and design, data analysis, interpretation, drafting, and final approval of the manuscript. All authors have read and approved the final manuscript.
Abstract
Background
To investigate associations between dual-specificity tyrosine phosphorylation-regulated kinase 2 (DYRK2) expression and survival in T1 high-grade or T2 bladder cancer patients treated with neoadjuvant chemotherapy.
Methods
The cohort under investigation comprised 44 patients who underwent neoadjuvant chemotherapy for pT1 high-grade or pT2N0M0 bladder cancer at our institution between 2002 and 2011. Immunohistochemical analysis was used to determine expression of DYRK2 in bladder cancer specimens obtained by transurethral resection before chemotherapy. Relationships between DYRK2 expression and both response to chemotherapy and survival in these patients were analyzed.
Results
DYRK2 expression was positive in 21 of 44 patients (47.7 %) and negative in 23 patients (52.3 %). In total, 20 of 21 DYRK2-positive cases showed complete response to neoadjuvant chemotherapy, whereas 11 of 23 DYRK2-negative cases did not show complete response. Sensitivity and specificity were 62.5 % and 91.7 %, respectively (
P
 = 0.0018). In addition, disease-specific survival rate was significantly higher for DYRK2-positive patients than for DYRK2-negative patients (
P
 = 0.017). In multivariate analysis, DYRK2 expression level was identified as an independent prognostic factor for disease-specific survival (
P
 = 0.029). We also showed that DYRK2 mRNA expression was significantly higher in DYRK2-positive samples by immunohistochemistry than DYRK2-negative samples (
P
 = 0.040).
Conclusions
DYRK2 expression level may predict the efficacy of neoadjuvant chemotherapy for T1 high-grade and T2 bladder cancer.