01.12.2015 | Research article | Ausgabe 1/2015 Open Access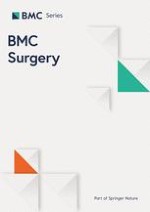 Duodenal gastrointestinal stromal tumors: clinicopathological characteristics, surgery, and long-term outcome
Zeitschrift:
Autoren:

Chaoyong Shen, Haining Chen, Yuan Yin, Jiaju Chen, Luyin Han, Bo Zhang, Zhixin Chen, Jiaping Chen
Wichtige Hinweise
Chaoyong Shen and Haining Chen contributed equally to this work.
Competing interests
The authors declare that they have no competing interests.
Authors' contributions
ZB, CZX, and CJP conceived the study and participated in its design and coordination. CHN, SCY, YY, CJJ, and HLY helped collect data. CHN and SCY drafted the manuscript. ZB helped revise the paper critically for important intellectual content. All authors read and approved the final manuscript.
Abstract
Background
Duodenal gastrointestinal stromal tumors (DGIST) are rare, and data on their management is limited. We here report the clinicopathological characteristics, different surgical treatments, and long-term prognosis of DGIST.
Methods
Data of 74 consecutive patients with DGIST in a single institution from June 2000 to June 2014 were retrospectively analyzed. The overall survival (OS) and recurrence/metastasis-free survival rates of 74 cases were calculated using Kaplan–Meier method.
Results
Out of 74 cases, 42 cases were female (56.76 %) and 32 cases (43.24 %) were male. Approximately 22.97, 47.30, 16.22, and 13.51 % of the tumors originated in the first to fourth portion of the duodenum, respectively, with a tumor size of 5.08 ± 2.90 cm. Patients presented with gastrointestinal bleeding (
n
 = 37, 50.00 %), abdominal pain (
n
 = 25, 33.78 %), mass (
n
 = 5, 6.76 %), and others (
n
 = 7, 9.76 %). A total of 18 patients (24.3 %) underwent wedge resection (WR); 39 patients (52.7 %) underwent segmental resection (SR); and 17 cases (23 %) underwent pancreaticoduodenectomy (PD). The median follow-up was 56 months (1–159 months); 19 patients (25.68 %) experienced tumor recurrence or metastasis, and 14 cases (18.92 %) died. The 1-, 3-, and 5-year recurrence/metastasis-free survival rates were 93.9, 73.7, and 69 %, respectively. The 1-, 3- and 5-year OS were 100, 92.5, and 86 %, respectively. The recurrence/metastasis-free survival rate in the PD group within 5 years was lower than that in the WR group (
P
 = 0.047), but was not different from that in the SR group (
P
 = 0.060). No statistically significant difference was found among the three operation types (
P
 = 0.294).
Conclusions
DGIST patients have favorable prognosis after complete tumor removal, and surgical procedures should be determined by the DGIST tumor location and size.