01.12.2014 | Case report | Ausgabe 1/2014 Open Access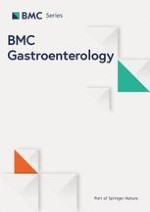 Duodenal mucosal damage is associated with proliferative activity of Brunner's gland hamartoma: a case report
Zeitschrift:
Autoren:

Mayumi Akaki, Shoji Taniguchi, Kinta Hatakeyama, Ryoji Kushima, Hiroaki Kataoka
Wichtige Hinweise
Electronic supplementary material
The online version of this article (doi:
10.​1186/​1471-230X-14-14
) contains supplementary material, which is available to authorized users.
Competing interests
The authors declare that they have no competing interests.
Authors' contributions
MA collected and analyzed the data, and was involved in drafting the manuscript. ST did clinical aspects of this study including surgical treatment. KH helped designing this study. RK guided us for pathological diagnosis and conception. HK revised the manuscript critically for important intellectual content and supported financially. All authors read and approved of the final manuscript.
Abstract
Background
Brunner's gland hamartoma is a rare tumor, predominantly found in the fifth to sixth decades of life. Generally, it is a single pedunculated polyp, rarely larger than 5 cm. Asymptomatic cases are found incidentally, but cases with a large polyp tend to have gastrointestinal bleeding and/or obstructive symptoms. Polyp size increases in a time-dependent manner, however, the growth mechanism is unknown. We report a Japanese male case in his mid-twenties with an over 6 cm sized polyp.
Case presentation
A 26-year-old man presented black stools and anemia. Endoscopic examination revealed a large pedunculated polyp at gastroduodenal junction. The polyp, subsequently resected by distal gastrectomy, was lobulated with random surface erosions and sized 6.4 × 3 cm. Histological examination revealed that the polyp arose from duodenal mucosa and was composed of hyperplastic Brunner's glands in lobules separated by fibromuscular septa, associated with lymphocytic infiltrate and lymphoid follicles. No evidence of malignancy was found. Thus, the lesion was diagnosed as Brunner's gland hamartoma. Further immunohistochemical studies indicated that gastric foveolar metaplasia is associated with surface epithelium covering upper two thirds of the polyp, showing immunohistochemical positivity for mucin 5 AC (MUC5AC). Below the metaplastic surface epithelium, Brunner's glands had high proliferative activity (MIB-1 labeling index: 7.9%). The similar staining pattern was observed at surface erosive sites (MIB-1 labeling index in Brunner's glands: 9%). On the other hand, surface epithelium in the lower side of the polyp still preserved intestinal nature, containing CDX2-positive nuclei and MUC2-positive goblet cells. Brunner's glands below the surface epithelium with intestinal characteristics showed low proliferative activity (MIB-1 labeling index: 0.77%).
Conclusion
Proliferative activity of Brunner's glands was high at the sites with surface erosion and also below the epithelium showing gastric foveolar metaplasia. As gastric foveolar metaplasia occurs along with a mucosal repair process in the duodenum, mucosal damages underlay the hamartomatous proliferation of Brunner's glands and eventually resulted in a formation of large polypoid mass in this case.