22.02.2018 | Original Article – Clinical Oncology | Ausgabe 5/2018 Open Access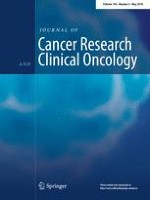 Durable treatment-free remission in patients with chronic myeloid leukemia in chronic phase following frontline nilotinib: 96-week update of the ENESTfreedom study
Zeitschrift:
Autoren:

David M. Ross, Tamas Masszi, María Teresa Gómez Casares, Andrzej Hellmann, Jesper Stentoft, Eibhlin Conneally, Valentin Garcia-Gutierrez, Norbert Gattermann, Philipp D. le Coutre, Bruno Martino, Susanne Saussele, Francis J. Giles, Jerald P. Radich, Giuseppe Saglio, Weiping Deng, Nancy Krunic, Véronique Bédoucha, Prashanth Gopalakrishna, Andreas Hochhaus
Wichtige Hinweise
Presented in part at the 22nd European Hematology Association Congress, held June 22–25, 2017, in Madrid, Spain; the 5th Society of Hematologic Oncology Annual Meeting, held September 13–16, 2017, in Houston, Texas; and the 59th Annual Meeting and Exposition of the American Society of Hematology, held December 9–12, 2017, in Atlanta, Georgia.
Abstract
Purpose
ENESTfreedom is evaluating treatment-free remission (TFR) following frontline nilotinib in patients with chronic myeloid leukemia (CML) in chronic phase. Following our primary analysis at 48 weeks, we here provide an updated 96-week analysis.
Methods
Attempting TFR required ≥ 3 years of nilotinib, a molecular response of MR
4.5
[
BCR-ABL1
 ≤ 0.0032% on the International Scale (
BCR-ABL1
IS
)], and sustained deep molecular response (DMR) during a 1-year consolidation phase. Patients restarted nilotinib following loss of major molecular response (MMR;
BCR-ABL1
IS
 ≤ 0.1%).
Results
Ninety-six weeks after stopping treatment (3.6-year median prior nilotinib duration), 93 of 190 patients (48.9%) remained in TFR. Of 88 patients who restarted nilotinib following loss of MMR, 87 regained MMR and 81 regained MR
4.5
by the data cut-off. Ninety-six-week TFR rates were 61.3, 50.0, and 28.6% in patients with low, intermediate, and high Sokal risk scores at diagnosis, respectively. Patients consistently in MR
4.5
during consolidation had higher TFR rates (50.6%) than patients with ≥ 1 assessment without MR
4.5
during consolidation (35.0%). In a landmark analysis, 96-week TFR rates for patients with MR
4.5
, MR
4
(
BCR-ABL1
IS
 ≤ 0.01%) but not MR
4.5
, and MMR but not MR
4
at TFR week 12 were 82.6, 23.1, and 0%, respectively. There were no reports of disease progression or death due to CML; overall adverse event frequency decreased following TFR. Within the follow-up period, TFR did not adversely affect disease outcomes.
Conclusions
These results demonstrate the feasibility and durability of TFR following frontline nilotinib and emphasize the importance of sustained DMR for TFR.