01.12.2018 | Review | Ausgabe 1/2018 Open Access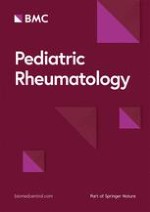 Dutch juvenile idiopathic arthritis patients, carers and clinicians create a research agenda together following the James Lind Alliance method: a study protocol
Zeitschrift:
Autoren:

Casper G. Schoemaker, Wineke Armbrust, Joost F. Swart, Sebastiaan J. Vastert, Jorg van Loosdregt, Anouk Verwoerd, Caroline Whiting, Katherine Cowan, Wendy Olsder, Els Versluis, Rens van Vliet, Marlous J. Fernhout, Sanne L. Bookelman, Jeannette Cappon, J. Merlijn van den Berg, Ellen Schatorjé, Petra C. E. Hissink Muller, Sylvia Kamphuis, Joke de Boer, Otto T. H. M. Lelieveld, Janjaap van der Net, Karin R. Jongsma, Annemiek van Rensen, Christine Dedding, Nico M. Wulffraat
Abbreviations
CIHR
Canadian Institutes of Health Research
DAPR
Dutch Association for Pediatric Rheumatology
DHPPR
Dutch Health Professionals in Pediatric Rheumatology
DJAA
Dutch Juvenile Arthritis Association:
ENCA
European Network for Children with Arthritis
EULAR
European League Against Rheumatism
JIA
Juvenile Idiopathic Arthritis
NETSCC
NIHR Evaluation, Trials and Studies Coordinating Centre
NIHR
National Institute for Health Research (NIHR)
PGOsupport
Dutch networking organisation for patient organisations
PReS
Paediatric Rheumatology European Society
PSP
Priority Setting Partnership
UCAN CAN-DU
Canada – Netherlands Personalized Medicine Network in Childhood Arthritis and Rheumatic diseases
WKZ
Wilhelmina Children's Hospital
Youth-R-Well.com
Dutch network organisation for young arthritis patients (16–30 years old)
ZONMW
Netherlands Organisation for Health Research and Development
Background
Main text
Specific themes and research questions formulated by these young patients will be added to our dataset of uncertainties from the survey. In the focus groups the young patients will discuss how they wish to be involved in the process and which arrangements need to be made in order for them to participate successfully. The results of the focus group will be discussed in the second meeting of the steering group. This may change the involvement of young patients in the process onwards.
Formulating a research agenda for JIA is not a goal in itself. It is important that researchers and research funders are inspired by the defined priorities when preparing for and funding new research projects. Therefore all Dutch academic centers for pediatric rheumatology will be represented in the steering group. We will present our results at a 2019 meeting of a large Dutch/Canadian research project on personalised medicine, UCAN CAN-DU, funded by the Netherlands Organisation for Health Research and Development ZONMW, the Canadian Institutes of Health Research (CIHR) and Dutch Arthritis Foundation (ReumaNederland), to inspire further JIA-research. Funding agencies will be invited for our final workshop. Members and ambassadors of the Dutch JIA-PSP are involved in European organisations like ENCA, Paediatric Rheumatology European Society (PReS) and the European League Against Rheumatism (EULAR). Collectively, these measures will ensure the optimal implementation of the research agenda in different "layers" of research.
Conclusions
In 2018 four Dutch organisations for JIA-patients, parents, pediatric rheumatologists and health professionals will initiate a PSP for JIA, following the JLA methodology. This research agenda, will be established in 2019, and will improve the relevance of JIA-research in the Netherlands and beyond. This will not only benefit patients, parents and clinicians in the consulting room, but also the JIA-researchers themselves since their research will really matter to the people that need it most.
Ethics approval and consent to participate
Not applicable.
Consent for publication
Not applicable.
Competing interests
The authors declare that they have no competing interests.
Publisher's Note
Springer Nature remains neutral with regard to jurisdictional claims in published maps and institutional affiliations.
Open Access
This article is distributed under the terms of the Creative Commons Attribution 4.0 International License (
http://​creativecommons.​org/​licenses/​by/​4.​0/​
), which permits unrestricted use, distribution, and reproduction in any medium, provided you give appropriate credit to the original author(s) and the source, provide a link to the Creative Commons license, and indicate if changes were made. The Creative Commons Public Domain Dedication waiver (
http://​creativecommons.​org/​publicdomain/​zero/​1.​0/​
) applies to the data made available in this article, unless otherwise stated.