01.12.2018 | Research | Ausgabe 1/2018 Open Access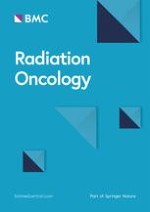 Dynamic changes in 18F-borono-L-phenylalanine uptake in unresectable, advanced, or recurrent squamous cell carcinoma of the head and neck and malignant melanoma during boron neutron capture therapy patient selection
Zeitschrift:
Autoren:

Takahiro Morita, Hiroaki Kurihara, Kenta Hiroi, Natsuki Honda, Hiroshi Igaki, Jun Hatazawa, Yasuaki Arai, Jun Itami
Abstract
Background
We evaluated dynamic changes in 18F–borono-L-phenylalanine (18F–BPA) uptake in unresectable, advanced, or recurrent squamous cell carcinoma of the head and neck (SCC) and malignant melanoma (MM) during boron neutron capture therapy (BNCT) patient selection.
Methods
Dynamic changes in the maximum standardized uptake value (SUVmax), tumor-to-normal tissue ratio (TNR), and tumor-to-blood pool ratio (TBR) for 18F–BPA were evaluated in 20 patients with SCC and 8 patients with MM.
Results
SUVmax in SCC tumors decreased significantly from 30 to 120 min. There was a non-statistically significant decrease in SUVmax for SCC tumors from 30 to 60 min and from 60 to 120 min. Patients with MM had nonsignificant SUVmax changes in 18F–BPA uptake on delayed imaging. Nonsignificant 18F–BPA TNR and TBR changes were seen in patients with SCC and MM.
Conclusions
Dynamic changes in SUVmax for 18F–BPA uptake had a washout pattern in SCC and a persistent pattern in MM. Dynamic 18F–BPA -PET studies should be performed to investigate the pharmacokinetics of 18F–BPA in humans and select appropriate candidates who may benefit from BNCT.