29.01.2021 | Original Article | Ausgabe 2/2021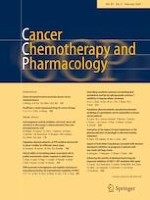 Dynamic changes of CTCs in patients with metastatic HR(+)/HER2(−) breast cancer receiving salvage treatment with everolimus/exemestane
Zeitschrift:
Autoren:

Maria Spiliotaki, Galatea Kallergi, Christos Nikolaou, Nikolaos Xenidis, Eleni Politaki, Stella Apostolaki, Nefeli Georgoulia, Filippos Koinis, Nikolaos Tsoukalas, Dora Hatzidaki, Athanasios Kotsakis, Vassilis Georgoulias
Wichtige Hinweise
Supplementary Information
Maria Spiliotaki and Galatea Kallergi have equal contribution.
Publisher's Note
Springer Nature remains neutral with regard to jurisdictional claims in published maps and institutional affiliations.
Abstract
Purpose
Detection of CTCs represents a poor prognostic factor in patients with early and metastatic breast cancer (mBC) and treatment with everolimus–exemestane (E/E) is an established effective treatment in hormone receptor-positive/HER2-negative mBC patients. The effect of E/E on CTCs in mBC patients was prospectively investigated.
Methods
CTCs from 50 pre-treated patients with mBC receiving E/E were analyzed using the CellSearch (CS) platform and triple immunofluorescence (IF) staining for cytokeratin, M30 and Ki67 expression to assess their proliferative and apoptotic status.
Results
CTCs (by CS) were detected in 64% of patients before treatment and E/E administration resulted in their decreased prevalence [(
n
 = 18; 36%,
p
 = 0.004) and (
n
 = 7; 19.4%,
p
 = 0.019) post-1st and post-3rd treatment cycle, respectively] whereas it was significantly increased at disease progression (PD: 61%) compared to post-1st and post-3rd cycle (
p
 = 0.049 and
p
 = 0.021, respectively). Ki67-positive CTCs were detected in 60%, 60%, 17% and 50% of patients before treatment, post-1st, post-3rd cycle and at PD, respectively, while the opposite was observed for M30-positive CTCs (0% at baseline, 10% after the 1st cycle, 50% after the 3rd cycle and 0% at PD). The detection of even ≥ 1 CTC/5 ml after one cycle was associated with decreased PFS (3.3 vs 9.0 months,
p
 = 0.025) whereas the detection of even ≥ 2 CTCs at PD was associated with decreased OS (32.4 vs 19.5 months;
p
 = 0.009).
Conclusions
The combination of E/E resulted in early elimination of proliferating CTCs in mBC patients and this effect was associated with a favorable clinical outcome.