28.09.2018 | Review | Ausgabe 1/2019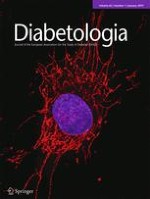 Dynamics of adipose tissue turnover in human metabolic health and disease
Zeitschrift:
Autoren:

Ursula White, Eric Ravussin
Wichtige Hinweise
Electronic supplementary material
Abstract
White adipose tissue is a highly plastic organ and is an important regulator of whole-body metabolism and energy balance. The magnitude of adipose tissue mass is determined by dynamic changes in the synthesis and breakdown (i.e. turnover) of adipocytes and triacylglycerols (TGs). Obesity is a disorder characterised by excessive adiposity and is a risk factor for diseases, including the metabolic syndrome and type 2 diabetes. Adipose tissue expansion is necessary to accommodate chronic excess energy intake and is characterised by enlargement of existing adipocytes (hypertrophy) and by increase in pre-adipocyte and adipocyte numbers (hyperplasia). Evidence suggests that the manner of subcutaneous adipose expansion can influence metabolic health, as impaired adipogenesis, namely restricted hyperplasia, may lead to ectopic lipid deposition in the liver and skeletal muscle, contributing to the pathogenesis of obesity-related disorders. Despite the plausible role of adipose turnover in human health and pathology, little is known about the in vivo kinetics of adipose tissue components (both adipose cells and TGs). This is due, in part, to the slow turnover rate of adipose tissue and the complexity of directly labelling pathway precursors. This review provides a brief summary of findings derived from in vitro techniques, as well as an overview of two in vivo methods that are being implemented to assess the turnover of adipose cells and TGs. Finally, the role of adipose tissue turnover in metabolic health and disease is discussed.