01.03.2012 | Educational Review | Ausgabe 3/2012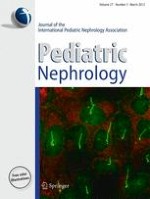 Dyslipidemia in children with CKD: should we treat with statins?
Zeitschrift:
Autor:

Kjell Tullus
Wichtige Hinweise
Answers and comments
1. (e) All mentioned risk factors are possible to treat and all should routinely be treated, with the exception of hyperlipidaemia, where more data are needed in children
2. (a) It is only in CKD stages 2–4 that data are robust enough. In the other forms of CKD, data are still conflicting
3. (e) All statements are true, except general screening of all children is not recommended; these recommendations have been heavily debated
4. (e) All statements are true, except that routine treatment with a statin should not yet be done; there is no scientific evidence at the present time to support such treatment
5. (e) All statements are true and emphasise the need for treatment trials in children
Abstract
Dyslipidemia has been shown to be a risk factor for increased cardiovascular morbidity and mortality in adult patients with chronic kidney disease (CKD) stages 2–4. In patients on dialysis, a paradoxical correlation has been found between low cholesterol values and increased mortality rates. No data exist in children. Treatment with statins has been convincingly shown to both reduce blood lipid levels and mortality rates from cardiovascular disease in adult patients in CKD stages 2–4. There is no strong literature support for treating patients on dialysis or after having had a transplant. Data on benefits of statin therapy do not exist in children with CKD. There are many differences between adult and paediatric kidney patients, and I caution on extrapolating the findings in adult patients to children. Studies are thus needed to evaluate the benefits and potential problems of statin treatment in children with CKD.