01.02.2013 | Clinical Article - Spine | Ausgabe 2/2013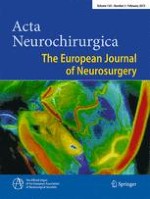 Early and late re-operations after anterior cervical decompression and fusion during an 11-year follow-up
Zeitschrift:
Autoren:

Tuure Saarinen, Mika Niemelä, Riku Kivisaari, Janne Pitkäniemi, Juha Pohjola, Juha Hernesniemi
Wichtige Hinweise
The authors have not received any funding for this study. There are no industrial affiliations nor financial conflicts for any of the authors.
This work has not been previously presented.
Comment
The authors analyzed 11-year follow-up in 330 patients undergoing ACDF using cage in a 2-year period. In less than one month, 4.9 % needed early revision, and 11 % underwent revision or additional surgery later. Among the latter, two thirds were done for adjacent joint degeneration. Interestingly, the revision rate was higher in the group of patients operated with Smith-Robinson type cage, as compared to Cloward type of cylinder, although the observation remains to be further verified in other series. Despite the descriptive nature of the postoperative events, this paper provides a solid set of data to be referred to as a benchmark in a large volume centre, with a good follow-up secured in a socialized frame-work of medical care. Future analysis of outcome of the surgery using various techniques or materials is to be compared to the authors' data.
Phyo Kim
Tochighi, Japan
Abstract
Background
Anterior cervical decompression and fusion (ACDF) may necessitate acute and late re-operations. Published long-term follow studies after ACDF are scarce.
Objective
Our goal was to give a detailed description of early and late re-operations after ACDF in an 11-year follow-up.
Methods
We retrospectively analyzed all available clinical data, including radiographic imaging for all patients who underwent an ACDF at our institution between 1998 and 1999. ACDF without plating was performed in 327 patients. All re-operations were performed at our institution.
Results
Forty-nine patients (15 %, CI 12–19 %) underwent a re-operation; 16 (4.9 %, CI 3–8 %) during the first month and 36 (11 %, CI 8–15 %) later during the follow-up. Five early re-operations were due to postoperative hematomas. No anterior transition of cages was detected. Asymptomatic cage subsidence was seen in 21 re-operated patients, but only one (0.3 %, CI 0–2 %) resulted in a re-operation. Adjacent level re-operation was performed for 26 patients (8 %, CI 5–11 %). This was independent of the number of fused levels or the localization of fusion. Plate reinforcement was used in only two patients in addition to ACDF; both of them were re-operations. The outcome was reported good or excellent for 11 (69 %, CI 44–86 %) and 26 (72 %, CI 56–84 %) patients with an early and late re-operation, respectively.
Conclusion
Fifteen percent of patients underwent a re-operation during the follow-up. The outcome for re-operated patients is similar to patients without a re-operation. A multilevel fusion does not predispose to adjacent level degeneration. A solid fusion can be achieved without plating.