01.03.2018 | Original Article | Ausgabe 5/2018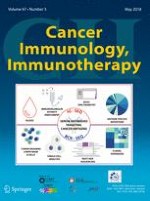 Early detection of hepatocellular carcinoma using autoantibody profiles from a panel of tumor-associated antigens
Zeitschrift:
Autoren:

James A. Koziol, Haruhiko Imai, Liping Dai, Jian-Ying Zhang, Eng M. Tan
Wichtige Hinweise
Electronic supplementary material
Abstract
Background
Multiple antigen miniarrays used for detecting autoantibodies to tumor-associated antigens (TAAs) can be a useful approach for cancer detection and diagnosis. We here address a very specific question: might there be autoimmune responses to TAAs which precede clinical detection of hepatocellular carcinoma (HCC) in HBV and HCV chronic liver disease patients under continuous medical surveillance, and if so, could these anti-TAAs be added to the armamentarium of diagnostic tests?
Methods
We here examine the utility of a panel of 12 TAAs for the diagnosis of hepatocellular carcinoma (HCC). We derived a predictive rule for the presence of HCC based on the panel, from a cohort comprising 160 HCC patients and 90 normals. We then applied this rule to sequential anti-TAA data from a cohort of 17 HCC patients, from whom this information was available prior to diagnosis.
Results
The predictors (autoantibodies to HCC1, P16, P53, P90, and survivin) indicated the presence of HCC prior to diagnosis in 16 of the 17 patients, at a median lead time of 0.75 year.
Conclusions
We believe these findings warrant further study of anti-TAA profiles as biomarkers for primary or early diagnosis of HCC.