06.02.2017 | Conference Reports and Expert Panel | Ausgabe 3/2017 Open Access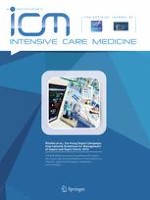 Early enteral nutrition in critically ill patients: ESICM clinical practice guidelines
Zeitschrift:
Autoren:

Annika Reintam Blaser, Joel Starkopf, Waleed Alhazzani, Mette M. Berger, Michael P. Casaer, Adam M. Deane, Sonja Fruhwald, Michael Hiesmayr, Carole Ichai, Stephan M. Jakob, Cecilia I. Loudet, Manu L. N. G. Malbrain, Juan C. Montejo González, Catherine Paugam-Burtz, Martijn Poeze, Jean-Charles Preiser, Pierre Singer, Arthur R.H. van Zanten, Jan De Waele, Julia Wendon, Jan Wernerman, Tony Whitehouse, Alexander Wilmer, Heleen M. Oudemans-van Straaten, ESICM Working Group on Gastrointestinal Function
Wichtige Hinweise
Electronic supplementary material
The online version of this article (doi:
10.​1007/​s00134-016-4665-0
) contains supplementary material, which is available to authorized users.
Take-home message:
The administration of early EN appears to reduce infections and should be used for the majority of critically ill patients. However, there are certain situations when we recommend EN be delayed.
Introduction
Existing guidelines recommend initiating enteral nutrition (EN) within the first 24–48 h after intensive care unit (ICU) admission if patients are unable to eat, not clearly defining reasons to delay EN [
1
–
3
]. The present guideline is issued by the Working Group on Gastrointestinal Function within the Metabolism, Endocrinology and Nutrition (MEN) Section of the European Society of Intensive Care Medicine (ESICM) and is endorsed by ESICM. Our objective was to provide evidence-based guidelines for early enteral nutrition (EEN) in critically ill patients, focusing on specific clinical conditions frequently associated with delayed EN. Caloric and protein requirements, time to reach targets, type and route of EN, and timing of supplemental or full parenteral nutrition (PN) were not addressed. A full version of the introduction with references is available in Supplement 1.
Methods
A full version of methods with references is available in Supplement 1.
We performed a systematic review of "early" EN (EEN) vs. early parenteral nutrition (PN) and EEN vs. delayed EN in adult critically ill patients. After critical appraisal of identified studies and in accordance with current guidelines [
1
–
3
], we defined EEN as EN started within 48 h of admission independent of the type or amount.
Thereafter, we predefined conditions in which EN is frequently delayed and performed a systematic review for each of these questions.
If randomised controlled trials (RCT) were available, we gave an evidence-based recommendation; if not, our recommendations were based on expert opinion (very low quality evidence), as all observational studies evaluating EEN are intrinsically biased, because patients who are less severely ill are more likely to receive and tolerate EEN.
General considerations
We focussed on specific conditions in which EN is frequently delayed and tolerance of EN might be impaired. Therefore, all our recommendations are based on general principles and precaution measures outlined in Table
1
[
4
–
9
]. All study questions and recommendations refer to adult critically ill patients.
Table 1
General principles and precautions for using EEN in critically ill patients at risk of intolerance
Starting and continuing EEN

Start EN at a slow rate (10–20 ml/h) while carefully monitoring abdominal/gastrointestinal symptoms

Increase EN slowly once previous symptoms are resolving and no new symptoms occur

Do not increase EN in cases of intolerance or new symptoms, such as pain, abdominal distension or increasing intra-abdominal pressure. In these circumstances EN should be either continued at a slow rate or ceased depending on the severity of symptoms and suspected underlying sinister pathology (e.g. mesenteric ischaemia)

Energy target during EEN

Monitoring and protocolised management of GI dysfunction during EEN

In case of gastric retention without other new abdominal symptoms use prokinetics and/or postpyloric feeding in a protocolised way [

9

]

During introduction and increasing the rate of EN, measurement of intra-abdominal pressure (IAP) provides an additional numeric value to detect negative dynamics of IAP during EN in patients with severe abdominal pathology, hypoperfusion or fluid overload

Individualized approach

For patients with diminished consciousness and inadequate swallowing, precautions to prevent aspiration of gastric contents may be useful, including considering postpyloric feeding

Premorbid health and course of the acute illness may differ between patients with similar diagnose; therefore an individual approach should always be applied
Results
The methodology is described in Supplement 1.
Adding 11 additional studies identified during searches for questions in specified patient groups did not significantly change our results (included studies are presented in Supplement 5, Table 1C; evidence profiles in Supplement 6 and Forest plots in Supplement 7, Fig. 3).
Conclusions
We suggest using EEN, initiated at a low rate, in the majority of critically ill patients; however, the evidence is weak. Beneficial effects in terms of infection prevention have been demonstrated in unselected critically ill patients, as well as in patients with severe acute pancreatitis and after GI surgery. However, we suggest delaying EN in patients with uncontrolled shock (haemodynamic and tissue perfusion goals are not met despite of fluids and vasopressors), uncontrolled hypoxaemia and acidosis, uncontrolled GI bleeding, overt bowel ischaemia (occlusive or non-occlusive), bowel obstruction (mechanical ileus), abdominal compartment syndrome, gastric aspirate volume >500 ml/6 h or high-output fistula if reliable distal feeding access is not achievable.
Acknowledgements
Collaborators in ESICM Working Group on Gastrointestinal Function: Claudia Spies, Klinik für Anästhesiologie mit Schwerpunkt operative Intensivmedizin der Charité-Universitätsmedizin Berlin, Campus Virchow Klinikum, Berlin; Pietro Vecchiarelli, Intensive Care Unit, Ospedale Belcolle, Strada Sammartinese, Belcolle Hospital, Viterbo, Italy; Anne Berit Guttormsen, Department of Anesthesia and Intensive Care, Haukeland University Hospital, Bergen, Norway. The costs covering the open access publication of this article were covered by the International Fluid Academy (IFA). The IFA is integrated within the not-for-profit charitable organization iMERiT (International Medical Education and Research Initiative) under Belgian Law, and IFA website (
http://​www.​fluidacademy.​org
) is an official SMACC (Social Media and Critical Care) affiliated site, based on the philosophy of FOAM (Free Open Access Medical Education).
Compliance with ethical standards
Conflicts of interest
See Supplement 8.
Open Access
This article is distributed under the terms of the Creative Commons Attribution-NonCommercial 4.0 International License (http://creativecommons.org/licenses/by-nc/4.0/), which permits any noncommercial use, distribution, and reproduction in any medium, provided you give appropriate credit to the original author(s) and the source, provide a link to the Creative Commons license, and indicate if changes were made.