21.03.2019 | Nuclear Medicine | Ausgabe 7/2019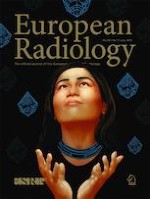 Early evaluation of tumor response to 90Y-ibritumomab radioimmunotherapy in relapsed/refractory B cell non-Hodgkin lymphoma: what is the optimal timing for FDG-PET/CT?
Zeitschrift:
Autoren:

Kazuhiro Kitajima, Masaya Okada, Toru Kashiwagi, Kyoko Yoshihara, Tazuko Tokugawa, Akihiro Sawada, Satoshi Yoshihara, Yoshihiro Fujimori, Koichiro Yamakado
Wichtige Hinweise
Publisher's note
Springer Nature remains neutral with regard to jurisdictional claims in published maps and institutional affiliations.
Abstract
Purpose
To determine the earliest optimal timing for assessment of early response following radioimmunotherapy in non-Hodgkin lymphoma patients using FDG-PET/CT.
Methods
FDG-PET/CT was performed prior to treatment (PET1), at 2 (PET2) weeks, and at 6 (PET3) weeks after 90Y-ibritumomab radioimmunotherapy in 55 patients. Response was evaluated based on the Deauville 5-point scale and Lugano criteria as well as semiquantitative analysis and compared with progression-free survival (PFS).
Results
PET 2 showed complete metabolic response (CMR), partial metabolic response (PMR), stable metabolic disease (SMD), and progressive metabolic disease (PMD) in 33, 13, 6, and 3 patients, respectively, while PET 3 in 41, 8, 3, and 3 patients, respectively. Mean SUV
max
of 168 target lesions decreased over time (PET1, 2, 3; 5.58 ± 2.58, 1.87 ± 1.78, 1.75 ± 2.25, respectively). Progression or recurrence after a median of 12.6 months (range 2.6–72.0 months) was seen in 44 patients. Patients with CMR or metabolic response (CMR + PMR) on PET2 showed significantly longer PFS as compared to those who did not (
p
 = 0.00028 and
p
 = 0.029, respectively). A similar significant difference was observed based on PET3 (
p
 = 0.00013 and
p
 = 0.017, respectively). The same trend was observed when analyzing only the subgroup of patients with follicular lymphoma (
N
 = 43/55) (
p
 < 0.0001).
Conclusion
Use of FDG-PET/CT findings with Lugano criteria for assessing early response to radioimmunotherapy after 6 weeks allowed for accurate evaluation and prognostic stratification, though scanning after 2 weeks was too soon to precisely evaluate response.
Key Points
• The optimal timing of FDG-PET/CT to obtain a suitable tool for assessment of response after
90
Y-ibritumomab radioimmunotherapy of lymphoma has not yet been defined.
• Assessment after 6 weeks by FDG-PET/CT using the Lugano criteria accurately evaluates treatment response and prognosis.
• FDG-PET/CT performed 2 weeks after radioimmunotherapy is too early as it significantly misses objective responses.