01.12.2017 | Research | Ausgabe 1/2017 Open Access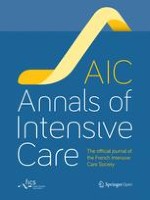 Early impairment of intracranial conduction time predicts mortality in deeply sedated critically ill patients: a prospective observational pilot study
Zeitschrift:
Autoren:

Eric Azabou, Benjamin Rohaut, Nicholas Heming, Eric Magalhaes, Régine Morizot-Koutlidis, Stanislas Kandelman, Jeremy Allary, Guy Moneger, Andrea Polito, Virginie Maxime, Djillali Annane, Frederic Lofaso, Fabrice Chrétien, Jean Mantz, Raphael Porcher, Tarek Sharshar
Abbreviations
BAEP
brainstem auditory evoked potentials
CAM-ICU
Confusion Assessment Method in ICU
FOUR
the Full Outline of Unresponsiveness score
ICCT
intracranial conduction time
IPCT
intrapontine conduction time
MCA
multiple correspondence analysis
RASS
Richmond Assessment Sedation Scale
SAPS II
Simplified Acute Physiology Score
SIRS
Systemic Inflammatory Response Syndrome
SOFA
Sequential Organ Failure Assessment score
SSEP
somatosensory evoked potentials
STROBE
Strengthening the Reporting of Observational Studies in Epidemiology
Background
While current guidelines advocate discontinuing sedation as soon as possible [
1
,
2
], 30–70% of all ICU patients are, at one time, deeply sedated [
3
,
4
]. Indeed, deep sedation, usually defined by a Richmond Assessment Sedation Scale (RASS) beneath −3, may be required in several conditions, including severe respiratory failure, septic shock, or controlling intracranial hypertension in severely brain-injured patients. However, this practice raises major concerns since the use of deep sedation has been incriminated in brain dysfunction [
4
,
5
] and may contribute to increase the prevalence of delirium [
6
–
8
] and mortality [
9
,
10
]. Indeed, more than half of all critically ill patients develop delirium, which is associated with a greater risk of death and long-term cognitive dysfunction [
11
–
15
]. Furthermore, severe brain injury may cause long-term disability or even be life-threatening [
16
]. Therefore, assessing and monitoring brain dysfunction in deeply sedated patient and determining its impact on outcome are major issues in the daily management of critically ill patients [
17
–
21
]. Neurophysiological testing enables assessment of brain dysfunction at the bedside [
22
]. Somatosensory evoked potentials (SSEP) and brainstem auditory evoked potentials (BAEP) explore the brainstem, as well as cortical and subcortical regions of the brain and are little influenced by the administration of sedatives [
23
–
25
]. More specifically, inter-peak latencies (IPL) of the components of the SSEP and BAEP are determined by conduction times between neuroanatomical regions or structures [
26
] and provide information about the functional state of the given brain portion [
24
,
27
]. The prognostic values of SSEP and BAEP have been explored in various causes of coma but never in a cohort of deeply sedated critically ill patients [
17
,
19
–
21
]. We hypothesized that the occurrence of brain dysfunction was associated with impaired intracranial (ICCT) and intrapontine (IPCT) conduction times assessed, respectively, by SSEP and BAEP. This bi-center prospective pilot cohort study was designed to determine whether early impairment of ICCT and IPCT could predict in-ICU mortality and the occurrence of post-sedation altered mental status (delirium or delayed awakening) in deeply sedated critically ill patients.
Methods
Study design and setting
This prospective observational study is reported following the Strengthening the Reporting of Observational Studies in Epidemiology (STROBE) guidelines [
28
]. The current pilot study was preparatory to the design of a larger prospective multicenter study assessing the prognostic value of brainstem dysfunction in sedated critically ill patients (ClinicalTrials.gov number: NCT02395861). Subjects were enrolled between January 2012 and January 2015. Participating centers were a medical (center 1) and a surgical (center 2) ICU in two French teaching hospitals. The former unit specializes in the management of medical critically ill patients, while the latter specializes in the management of subjects suffering from traumatic brain injuries.
Characteristics of participants
Consecutive critically ill patients deeply sedated on day 3 following admission were enrolled into the study, irrespective of the existence or not of a primary brain injury and underwent electrophysiological explorations. Deep sedation was defined as a Richmond Assessment Sedation Scale (RASS) <−3 [
29
]. All included patients were mechanically ventilated. Post-cardiac arrest and moribund patients, patients in whom cerebral death was suspected or for whom withdrawal of life-sustaining therapies had been decided, and patients suffering from preexisting of acquired neuropathies were not included. Hypothermia may influence evoked potentials' conduction times [
30
–
33
]. To avoid any confounding effect related to temperature, no evoked potential was recorded while body temperature was below 35 °C.
Baseline clinical data collection
Demographic characteristics (i.e., age, sex) as well as body weight, date and time of ICU admission, category of admission (medical or surgical), co-morbidities, preexisting risk factors for delirium, main cause of critical illness and brain injury, and the date and cause of initiation of mechanical ventilation were collected. Baseline data collection was performed following a previously described method [
34
,
35
].
Sedation and analgesia
The decision to initiate deep sedation and the subsequent management thereof were overseen by the physicians in charge of the patient, following recent guidelines [
1
,
2
]. Sedation was administered through a continuous infusion of midazolam and/or propofol, in combination with sufentanil. Total cumulative doses of administered drugs at the time of neurophysiological examination were collected. In both centers, the depth of sedation was monitored using the RASS [
29
], recorded every 4 h until awakening. Sedation was interrupted daily in center 1 (in which non-brain-injured patients were referred) and administrated as a titration aiming at obtaining the desired RASS in center 2 (in which severe traumatic brain-injured patients were cared for) [
29
]. The time of onset, the reason for administration, and duration of deep sedation, as well as the time of awakening, defined by the occurrence of spontaneous opening of the eyes with RASS >−1, were collected.
Neurological examination
At the time of inclusion, the Glasgow Coma Scale (GCS), the Full Outline of Unresponsiveness (FOUR) score [
36
], and the Richmond Agitation-Sedation Scale (RASS) and the cough reflex were assessed. RASS is a simple and reliable tool that is intuitive, easy to use, and informs on both agitation and sedation. The RASS has been validated in mechanically ventilated and sedated patients [
29
,
37
].
Evoked potential (EP) assessment and analysis
SSEP after stimulation of the median nerve and BAEP were recorded at the bedside by an experimented neurophysiologist (EA) for all studied patients. EPs were recorded following the guidelines of the International Federation of Clinical Neurophysiology [
24
,
38
]. A Natus France, Dantec™ KEYPOINT
®
G4 EMG/NCS/EP Workstation was used for data acquisition and processing. All recordings were separately interpreted by two experienced neurophysiologists (EA and RMK). Any series of SSEP or of BAEP recording contaminated by noise was rejected, and recording was repeated following the administration of a neuromuscular blocking agent in order to eliminate muscular artifacts [
24
,
38
].
Somatosensory evoked potentials (SSEP)
SSEP were recorded following stimulation of the median nerve at the wrist using repeated square-wave pulses lasting 0.2 ms, at 4.7 Hz, with stimulus intensity sufficient to produce a twitching of the thumb (motor threshold). Recording of the proximal peripheral nerve (brachial plexus) response N9 was performed through an electrode placed at the ipsilateral Erb's point, while the reference electrode was situated over the centro-frontal region (Fz). Recording and reference electrodes were placed at Cv7 (7th cervical vertebra)—Fz for the N13 cervical spinal cord response and Cz—cSh (contralateral shoulder) for the subcortical far-field potential: P14. The cortical components, N20 and P25, were recorded at the contralateral C3′ or C4′ positions (2 cm behind C3 or C4) according to the international 10–20 system. Impedance was kept below 5 kOhms. The filter pass band ranged from 30 to 1500 Hz. Two sets of 500 sweeps were averaged. Figure
2
—Appendix shows a schematic representation of median nerve's SSEP responses localizations on a brain MRI (A) and typical examples of their normal waveforms as well as recording electrodes montages (B). Peak latencies (PL) of N9, N13, P14, and N20 responses, as well as IPL N9–N13 and P14–N20 IPLs, i.e., conduction times, were measured. N9–N13 IPL represents a proximal peripheral nerve conduction time, and P14–N20 IPL, the intracranial conduction time (ICCT). The absolute amplitude of the peak of N20 was measured. Each parameter was measured on both right and left median nerves for each patient. N20 component was considered absent (abolished) when its absolute amplitude did not exceed 0.1 µV.
Brainstem auditory evoked potentials (BAEP)
BAEP were recorded following auditory stimulation by a 100-µs 80-dB click applied to one ear, with a (−20 dB) contralateral masking using "white noise." The recurrence frequency was 19.3 Hz (bandpass, 150–1500 Hz; sweep time, 10 ms). Two sets of 2000 sweeps were averaged. BAEP were picked up in Fz. BAEP recording in the Fz location of the electrode is more convenient when patients are supine since this location is easier to access than the vertex (Cz). The reference electrode was placed at the earlobe ipsilateral to the stimulated ear. Figure
3
—Appendix shows a schematic representation of BAEP responses localizations on a brain MRI (A) and typical examples of their normal waveforms (B). PL of waves I, III, and V, as well as I–III, III–V, and I–V IPL, were measured. The I–III IPL represents the peripheral conduction time of the auditory pathway, while the III–V IPL represents the intrapontine conduction time (IPCT). Recordings of both right and left ears were made for all the patients.
Evoked potentials data analysis
For each SSEP or BAEP parameter, the mean value of the left and right side was used for analysis. PL or IPL was considered delayed when they exceeded the mean value +2.5 SD obtained from a control group of 20 healthy subjects in our laboratory. Table
1
provides median nerve SSEP and BAEP's PL and IPL data obtained our control group.
Table 1
Neurophysiological data
Evoked potentials data

Healthy control subjects (

n

= 20)

Deeply sedated critically ill patients (

n

= 86)

Mean latency ± SD (in ms)

Mean latency + 2.5 SD (in ms)

Mean latency ± SD (in ms)

SSEP components

N9 PL

9.8 ± 0.6

11.4

11.0 ± 1.6

33 (38)

N13 PL

13.2 ± 0.8

15.2

14.9 ± 2.1

36 (42)

P14 PL

14.6 ± 0.9

16.8

16.2 ± 2.0

32 (37)

N20 PL a

18.8 ± 1.0

21.4

21.6 ± 2.6

41 (48)

N9-N13 IPL

3.4 ± 0.4

4.4

3.9 ± 0.9

14 (16)

P14-N20 IPL a

(ICCT)

4.1 ± 0.5

5.3

5.3 ± 1.5

39 (45)

BAEP components

Wave I PL

1.5 ± 0.2

2.0

1.69 (0.31)

13 (15)

Wave III PL

3.6 ± 0.2

4.1

3.96 (0.35)

34 (40)

Wave V PL

5.6 ± 0.3

6.3

6.16 (0.61)

34 (40)

I–III IPL

2.1 ± 0.2

2.6

2.28 (0.29)

17 (20)

III–V IPL (IPCT)

2.0 ± 0.2

2.5

2.20 (0.45)

15 (17)

I–V IPL

4.1 ± 0.3

4.8

4.51 (0.59)

17 (20)
Method for bias and confounding factors assessment
Confounding factors which may influence neurological examination, neurophysiological tests, mortality, and the occurrence of delirium were assessed. Neurological examination was performed by a specifically trained senior ICU physician. It has previously been shown that inter-observer agreement for such an examination was satisfactory (kappa scores ranged from 0.62 to 1) [
35
]. Neurophysiological tests were performed and interpreted in a standard manner following international guidelines [
24
,
38
]. Each evoked potential recording was independently analyzed offline by two senior neurophysiologists (EA and RMK) who were blinded to clinical data. We assessed inter-observer rate of concordance for the studied evoked potential parameters using the kappa analysis. The physician in charge of the patient was not informed of the results of the neurophysiological test and the neurophysiologist was blinded to the clinical status and outcome of patients. Management of sedation was assessed by recording the indication of initiation, the daily RASS, modality of discontinuation (daily interruption
versus
titration) and duration. The cause of death and its main risk factors were also assessed, using the SAPS II and SOFA scores as well as the cause of critical illness. We were therefore able not only to compare subgroups but also to ensure that the management of sedation was appropriate and that the studied population was representative of French ICUs patients.
Outcome assessment
The primary outcome was mortality in the ICU. We collected both the date and cause of death. Secondary outcome was the occurrence of altered mental status defined as either delirium or delayed awakening after discontinuation of sedation. Delayed awakening and the occurrence of delirium following discontinuation of sedation were assessed daily using the RASS and the Confusion Assessment Method in ICU (CAM-ICU), respectively [
39
]. Delayed awakening was defined by absence of spontaneous eye opening with RASS ≤−1 more than 3 days after discontinuation of sedation. Finally, the duration of mechanical ventilation and length of stay in the ICU were recorded.
Statistical analysis
No published data enabled us to calculate a number of subject to be recruited, since the predictive values of SSEP and BAEP's components IPL in deeply sedated critically ill patients have never been previously assessed. The present study was a pilot study for the design of a prospective multicenter study on the prognostic value of SSEP and BAEP in the ICU (ClinicalTrials.gov number: NCT02395861). We estimated that 80–100 included patients would be sufficient to test predictors of in-ICU mortality (primary objective). Data are reported as numbers (percentage), mean (standard deviation), or median (inter-quartile range). Groups were compared using the Mann–Whitney rank-sum test. Multivariable logistic regression was used to explore associations between impaired conduction times and in-ICU mortality adjusted to the global SOFA score and the non-neurological SOFA score.
p
values <0.05 were considered as statistically significant.
Results
Discussion
In the present study, we found that in critically ill patients receiving deep sedation, early impairment of ICCT (i.e., delayed SSEP's P14–N20 IPL) adjusted to patient severity (day 3 SOFA score), predicted in-ICU mortality, and that impairment of IPCT (i.e., delayed III–V IPL) tended to be associated with the occurrence of an altered mental status. We also found an impaired conduction time at the peripheral level, suggesting that neurological dysfunction of these patients affects both the central and the peripheral compartments. These findings support the fact that ICCT and IPCT are useful early warning indicators of brain dysfunction and prognosis markers in deeply sedated critically ill patients in ICU.
Study limitations
Our study has several limitations. First, since our aim was to assess the usefulness of evoked potential in patients requiring deep sedation, we studied both primarily brain-injured and non-brain-injured patients. Identifying neurophysiological differences between brain-injured and non-brain-injured patients and between septic and non-septic patients might be hampered by a lack of power. Due to the observational nature of the study, we are unable to determine whether the observed impaired consciousness results from brain insult, sedation or both. Finally, since we did not adjust statistical tests for multiple comparisons, our results should be viewed as exploratory. This limitation is mitigated by the fact that we tested a small number of scientific hypotheses—those pertaining to the association of EPs with the outcomes.
Overall, in deeply sedated critically ill patients, early impairment of ICCT was associated with in-ICU mortality while early impairment of IPCT tended to be associated with the occurrence of altered mental status. Confirmation of these results is currently under investigation in a larger multicenter prospective cohort study (ClinicalTrials.gov number: NCT02395861).
Authors' contributions
EA, EM, BR, RP, FC, FL, JM, and TS contributed to the conception and design of the study. EA, BR, EM, AP, SK, JA, RM-K, GM, VM, and NH performed data acquisition. EA, BR, RP, SK, JA, RM-K, GM, NH, VM, AP, EM, FC, DA, FL, JM, and TS contributed to interpretation and analysis of the data; drafted the manuscript; critically revised the manuscript; gave final approval; and agreed to be accountable for all aspects of the work. All authors read and approved the final manuscript.
Competing interests
The authors declare that they have no competing interests.
Availability of data and materials
Data are available upon request by contacting the study supervisor Prof. Tarek Sharshar: tarek.sharshar@aphp.fr.
Consent for publication
Written consent for publication of the results of this study was obtained from the patients' legal representatives together with the informed consent for their participation to this study.
Funding
EM was supported by a "Master 2 Bourse" Grant allocated by French Intensive Care Society (FICS)/Société de Réanimation de Langue Française (SRLF) in 2012.
Publisher's Note
Springer Nature remains neutral with regard to jurisdictional claims in published maps and institutional affiliations.
Open Access
This article is distributed under the terms of the Creative Commons Attribution 4.0 International License (
http://​creativecommons.​org/​licenses/​by/​4.​0/​
), which permits unrestricted use, distribution, and reproduction in any medium, provided you give appropriate credit to the original author(s) and the source, provide a link to the Creative Commons license, and indicate if changes were made.
Appendix
See Figs.
2
and
3
.
×
×